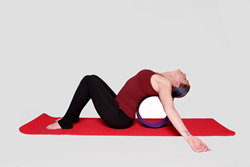 The Clever Yoga Wheel is well designed and tested by seasoned yogis.
Tampa, Florida (PRWEB) June 08, 2016
June 8, 2016 Clever Yoga, a woman-owned, online yoga products company, continues its offerings of the latest and best products for yoga practitioners, fitness and wellness fans with the yoga wheel.
This innovative, round prop helps yoga practitioners of every level and age—whether you're a millennial or a baby boomer.
Relaxing the spine on the yoga wheel supports backbends and other poses and stretches the chest, shoulders and back. The benefits appeal to a variety of people--including physical therapists and singers--anyone who appreciates the importance of good posture and alignment.
"Our team is excited to offer the yoga wheel to our customers," says Ellie Teng, Clever Yoga owner and chief executive officer. "As always, we tested different products and asked for feedback from the yoga community and staff. We think the yoga wheel will be as popular and well-liked as blocks and straps are now."
The yoga wheel has premium, thick dual padding and a sturdy frame that can hold up to 600 pounds. It is of made of ecofriendly material and is BPA free. The large wheel, 15.7" is recommended for people 5'6" and above. The 12.6" medium wheel is for 5'5" and below.
After testing the existing wheels on the market, Clever Yoga designed this wheel bigger and wider so that yogis have a base to add safety and versatility to postures. The Clever Yoga wheel is designed to withstand more weight than other wheels available. It is wide enough to accommodate two feet, so it enhances poses such as high plank, knees to chest and core work, as well as standing postures like crescent lunge, with the top of the back foot on the wheel. It is narrow enough to provide a deep opening for the back.
With padding on both sides of the wheel, this feature sets the Clever Yoga wheel apart from its competitors. Yogis have a more comfortable and safe grip with the hands and feet, both inside and out, for balance postures like crow and for standing postures such as dancer's in which the toes can maintain a steady grip from the inside of the wheel.
Clever Yoga will be offering free online videos for beginner, intermediate, and advanced yoga practitioners. The videos will include warm up, build up and cool down in the yoga "class."
About Clever Yoga
Clever Yoga is an innovative woman-owned and operated company based in Tampa, Fla., that aims to offer reliable products that make a difference in customers' lives. The Clever Yoga team uses meticulous market research and strict quality control and testing to create high quality products.
Recently, the company has launched an online store using the largest online retailer, Amazon, as their platform. Clever Yoga's online store can be found at Amazon http://www.amazon.com/gp/product/B00ORX56NW
Established in 2014, Clever Yoga's mission is to provide reliable, high quality yoga equipment, as well as excellent customer care.