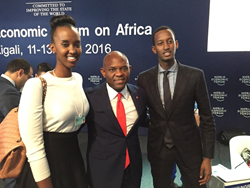 If I could ensure specific outcomes from the World Economic Forum in Rwanda, they would consist of showcasing my country's stable security, its cleanliness, and its vibrant economic life.
New York, NY (PRWEB) June 07, 2016
The LinkedIn article emphasized the growing technology scene in Africa, and why business leaders should endeavor to be a part of it. Ivan touched on Africa's limitless entrepreneurial potential and how the continent's large population of young adults under the age of 25 are unleashing a legion of young entrepreneurs into the work force. While it is the young people that are changing the landscape, Ivan stresses the importance of accelerating the continent's economic engine. He brings to light the essential role that economic development, fueled by technology and renewable energy, plays in providing African governments the resources and tools they need to ensure an expanding, level playing field.
Ivan Kagame is the eldest child of Paul Kagame, the sixth and current President of the Republic of Rwanda and the leader of Rwanda's majority party, the Rwandan Patriotic Front.
Ivan graduated from Pace University in 2013 with a Bachelor of Science in Business Economics and a concentration in Economics. Ivan apprenticed at JP Morgan Chase in their Investment Risk and Sports Marketing Division, where he developed an in-depth understanding of risk analysis, data reporting, and brand activation through hands-on experience.
Ivan Kagame's passion for sports—primarily basketball and football—regularly brings him to watch the games of his favorite teams, the New York Knicks and the New York Jets. He believes that sports foster a global sense of community and teamwork.
Currently, Ivan works in private equity and financial services as a business investor. With a view to contributing to the remarkable growth, development and overall advancement of Rwanda, he is interested in executing change in two key areas: technology and renewable energy. He believes that these types of businesses are unparalleled in their potential to positively alter the African continent.
Ivan is also an advocate for education and healthcare as a basic human right—rather than a privilege—for all.
Read the full LinkedIn article here:
https://www.linkedin.com/pulse/my-experience-young-entrepreneur-africa-why-you-should-ivan-kagame?trk=pulse_spock-articles
Twitter: @ivan_k23
LinkedIn: https://www.linkedin.com/profile/public-profile-settings?trk=prof-edit-edit-public_profile
# # #