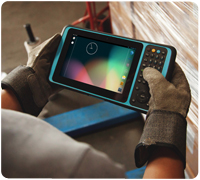 Consumer-grade tablets simply don't cut it when it comes to data collection.
Chandler, AZ (PRWEB) June 07, 2016
Group Mobile, well known for carrying the top brands in rugged laptops, rugged tablet PCs, rugged smartphones, and rugged handheld computers has extended its product offerings to include the new TB120 rugged Android tablet from Unitech, a global provider of data collection technology for both small and large businesses.
The Unitech TB120 rugged Android tablet is a powerful inventory tool for any warehouse or small business. Powered by a dual-core 1.5GHz Texas Instruments OMAP 4477 processor, the TB120 can easily manage heavy data collection applications. Standard model TB120 rugged tablets come with 1GB RAM, 8GB of onboard eMMC Flash, with expandable storage via SD cards up to 32GB.
The TB120 brings all-in-one functionality to the workforce. "Consumer-grade tablets simply don't cut it when it comes to data collection," said Unitech America Sales Manager Brian Silence. "Practical features like keyboards help bring tablet computing to businesses in a way that makes sense."
The TB120 rugged tablet comes equipped with a barcode scanner, 37-key physical keyboard, a 7" scratch and shatter-proof Gorilla Glass touchscreen, and an optional magnetic stripe reader. Users will be able to read both standard and linear barcodes and the newest 2D codes, with the choice of 1D or 2D scanner. A no scanner option is also available, as well as a TB120 rugged tablet with integrated MSR reader for loyalty cards or ID verification.
The TB120 connectivity options include dual-band WiFi, Bluetooth 4.0, GPS, and mobile broadband. The TB120 has an eCompass, light and proximity sensors, front and rear camera, micro USB, headphone jack, as well as a G-sensor.
The Unitech TB120 is tough enough to withstand repeated falls of up to 4-feet, protection from water and dust, extreme temperatures, and can even withstand extensive vibrations and tumbles, ideal for any warehouse, stockroom or delivery truck.
Unitech designed many accessories to accompany the TB120 rugged tablet including a hand strap, shoulder strap, and more. To view and order accessories for the Unitech TB120 rugged tablet, visit: http://www.groupmobile.com/dept.asp/dept_id=506.
The Unitech TB120 tablet can be ordered from Group Mobile today. To learn more, visit: http://www.groupmobile.com/buy.asp/sku=8106/dept_id=183/mf_id=71/Unitech+TB120+Rugged+Android+Tablet.html or call toll free 866-RUGGED8 (1-866-784-4338).