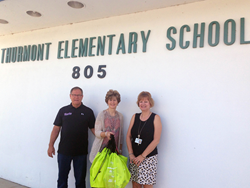 "Frederick is a very giving community; we appreciate all the businesses involved in this summer program." Helen Propheter, Director, Office of Economic Development
Frederick, MD (PRWEB) June 07, 2016
Nymeo Federal Credit Union, with the support of businesses and organizations, is providing a group of Frederick County Public School students with an opportunity to explore the county via TransIT during the summer. The program, called Passport to Fun, offers students access to fun and educational destination points in the county -- many providing free or low-cost admissions to these students.
"Last year, we provided backpacks full of summer-related items like towels and sunscreen for elementary, middle and high school students but decided this year that we wanted to give students experiences," said Vicki Johnston, Nymeo's President and CEO. "Students in transitional living situations may lack the means to visit fun places over the summer – even in their own hometown. With the support of companies like Krietz Auto, the Frederick Keys and Roy Rogers, we are giving students and their families this opportunity through Passport to Fun."
"Summer can often be a difficult time for students and families in need. When schools are out, families can often face struggles related to transportation, childcare, and other necessities. The work of partners like Nymeo to provide opportunities and resources to the young people who need them most during the summer is so important to families. FCPS deeply appreciates their efforts," said Superintendent Dr. Theresa Alban.
Nymeo worked with liaisons at Frederick County Public Schools to pinpoint students who would most benefit from this program and also received sponsorship of the program from area businesses such as the Krietz Auto, the Frederick Keys and Roy Rogers.
"Krietz is thrilled to be one of the main sponsors of Passport to Fun," said Kim Krietz. "We are happy to have helped deliver the Passport to Fun kits to area schools – providing children with an opportunity to learn more about Frederick, but most importantly, enjoy their summer."
The program involved volunteer time from the credit union's staff -- organizing the event, preparing the items, and dropping-off the donations to the schools all across the county. Other community organizations such as the Frederick County Humane Society helped deliver the passport kits to schools.
"Frederick is a very giving community. Many of the venues provided these students free access so they can venture out this summer without worrying about money," said Johnston. "Their ride to their destination points on TransIT buses are even free!"
Nymeo also is an active sponsor of the Maryland Food Bank, particularly the Frederick County School Pantry Program. The credit union's ongoing $wipe-Out Hunger campaign directly supports this program through each member's swipe of their check card, where then Nymeo then donates ½ cent to the program. Nymeo's goal this year is to raise enough money to provide 100,000 meals.
_________
Nymeo is a cooperative, not-for-profit financial institution headquartered in Frederick, MD. Membership at Nymeo is open to anyone who lives, works, worships, attends school, volunteers, or conducts regular business in Frederick County. For more information about Nymeo, please visit http://www.nymeo.org.