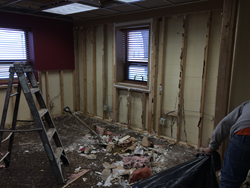 (PRWEB) June 07, 2016
ServiceMaster Restore by Angler provides emergency water damage cleanup and repair services in Dayton, OH and the surrounding areas. This past winter, their mitigation technicians restored a vacant commercial building that experienced significant water damage as a result of a burst pipe in the upper level of the building. Due to the fact more than half of the building was without heat it caused the water within the pipes to freeze. When the water started to defrost, it created expansion and caused the pipe to burst on the upper level. When the IICRC certified water technicians of ServiceMaster Restore by Angler arrived, there was one inch of standing water throughout the entire building; the upper floor where the burst happened was frozen over like an ice rink. The ceiling tiles were also damaged and falling down.
ServiceMaster Restore by Angler started the emergency commercial water mitigation process immediately to prevent any further damage. They began the process by extracting the water from the carpet, removed and disposed of wet materials including base moldings, ceiling tiles, drywall, and insulation. To initiate the drying process, over 35 air movers were strategically placed throughout both levels of the building and speed holes were drilled into the base of the walls for cavity drying. The water mitigation was done during the winter, a desiccant dehumidifier was used which can efficiently dry water damaged buildings in cold, dry conditions. A desiccant dehumidifier can dry any facility, regardless of how cold it is in or outside of the building. It produces the driest air and removes moisture. Their technicians also applied an anti-microbial agent to the affected surfaces to help prevent mold growth.
About ServiceMaster Restore by Angler
ServiceMaster Restore by Angler began business in 1971 as Angler Construction Services and in 2006, the owners bought a ServiceMaster Restore franchise. Their services include water damage restoration, water damage mitigation, fire damage restoration, and content cleaning as well as complete construction services including building stabilization and board-ups which allows them to be a single source provider for any type of commercial or residential loss. Each of their technicians are IICRC certified and use the best cleaning products and equipment available to clean, restore, and rebuild damaged homes and buildings. ServiceMaster Restore by Angler is on call 24 hours a day, 7 days a week with a live person to answer all after hour's emergency calls.