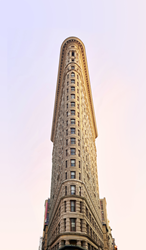 A Manhattan office will allow us to seamlessly and effectively collaborate with clients and partner with agencies in the city. -Adam Cossman
New York, NY (PRWEB) June 10, 2016
Sentient Interactive, LLC, (besentient.com) is pleased to announce the June 1, 2016, opening of its 54 West 21st Street office in New York City. The dynamic agency has expanded its office location to support consistent growth and better serve the needs of its clients. In addition to its New York City office, Sentient will maintain its Morristown, New Jersey, office at 1 High Street Court, near the Morristown Green.
"Many of our clients work with multiple agencies in New York City," says Sentient President and Partner Adam Cossman. "A Manhattan office will allow us to seamlessly and effectively collaborate with clients and partner with agencies in the city."
Part of New York City's Silicon Alley and Multimedia Gulch, the Flatiron District is home to many advertising agencies. For this reason and because the area attracts other entrepreneurial businesses, the location is ideal for the growing marketing agency. Sentient is excited to have an office located in the Flatiron District, which is named for the historic Flatiron Building.
Sentient Partner Jeff Rohwer says, "As a result of Sentient's continued growth, we must hire additional staff to address needs of our clients in the life sciences industry and financial services. A New York City presence deepens the pool of talent with extensive experience in digital marketing."
An award-winning marketing agency, Sentient has designed and developed the responsive QVC website, redesigned LendingTree.com, and launched successful digital projects for high-profile pharmaceutical clients, including Shionogi, Inc., Kowa Pharmaceuticals America, Inc., Novartis Pharmaceuticals Corporation, and Iroko Pharmaceuticals. Given its outstanding marketing teams and plan to hire new talent, the agency is well positioned to take on new clients.
For more information on Sentient, please visit besentient.com.
ABOUT SENTIENT
Sentient Interactive, LLC, is a digital-first, metrics-driven marketing agency with expertise in technologic solutions to drive measurable results for its clients. Since 2008, Sentient has provided services to clients in diverse industries, including life sciences, financial services, and consumer packaged goods. Sentient now has more than 50 staff members at offices in New York City and New Jersey.
SOURCE: Sentient Interactive, LLC
RELATED LINKS
http://www.besentient.com