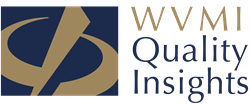 Baltimore, MD (PRWEB) June 06, 2016
On June 1, 2016, Sven Berg, MD, MPH, CPE, FAAP, Chief Medical Officer for Quality Insights Quality Innovation Network and Keith T. Kanel, MD, MHCM, FACP, Chief Medical Officer for Pittsburgh Regional Health Initiative (PRHI), served on a panel of experts that discussed successful partnerships at the annual meeting for the American Health Quality Association (AHQA) in Baltimore, Maryland.
Quality Insights and PRHI have been partnering closely since August 2014 to give select healthcare providers in Quality Insights' 5-state network area access to exclusive tools, resources and educational content via an online learning platform. This platform – called My Quality Insights – is powered by PRHI's Tomorrow's HealthCareTM.
Tomorrow's HealthCareTM is an online platform created by PRHI to facilitate learning, communicating, collaborating, and engaging for concerted action among health professionals. In addition to Quality Insights' network, Tomorrow's HealthCareTM is currently being used by professionals in a variety of settings, including regional learning collaboratives, physician practices, skilled nursing facilities, and hospitals.
Dr. Berg and Dr. Kanel joined five other professionals in a panel discussion that touched on effective leadership models and strategies for engaging in successful partnerships. The panel met during a general session of AHQA's annual meeting, which is attended by members of the Quality Innovation Network community.
In his remarks, Dr. Berg commented on how a successful partnership with PRHI has positively benefited healthcare providers and patients in the Quality Insights network.
"Quality Insights and PRHI approach similar challenges through different methods and channels. As a result, our different perspectives help us to provide a more holistic approach to both the health of the people living across our five states and the healthcare they receive," said Dr. Berg.
Dr. Kanel echoed Dr. Berg's statements and reinforced the importance of aligning with organizations with similar missions, and then working together toward a common goal.
"Together we are so much stronger than the sum of our parts. Our teamwork in the national effort to promote electronic health records in communities has been duly recognized, and more recently we've explored ways to make health data available to consumers. What we have accomplished is remarkable," Dr. Kanel commented.
Much of Quality Insights' services come in the form of Learning and Action Networks (LAN), peer groups where participants hear from experts and their peers, share successes and lessons learned and have access to customized data reports, showing their performance compared to the Network, national averages and more.
Quality Insights has formed LANs to improve cardiac care, diabetes care, and adult vaccination rates and to lower incidences of healthcare-associated infections and healthcare-acquired conditions, such as pressure ulcers. Healthcare providers from Delaware, Louisiana, New Jersey, Pennsylvania and West Virginia were invited to participate in these LANs.
Engaging participants over such a wide geographic area is challenging, which was why Quality Insights turned to PRHI and its Tomorrow's HealthCareTM learning platform. Together the two organizations tailored the system to suit the needs of the providers. My Quality Insights continues to be supported on the technological front by PRHI, while Quality Insights provides tools, resources and educational modules, all based on industry best-practices. Access to My Quality Insights is free for LAN participants.
About Quality Insights Quality Innovation Network
Quality Insights is the Quality Innovation Network-Quality Improvement Organization (QIN-QIO) for Delaware, Louisiana, New Jersey, Pennsylvania and West Virginia. Quality Insights partners with healthcare providers across the network to bring about widespread, significant improvements in the quality of care they deliver. Our goal is better care, better health and lower costs. To learn more about the network, visit http://www.qualityinsights-qin.org.
About the Pittsburgh Regional Health Initiative
Founded in 1997 as an operating arm of the Jewish Healthcare Foundation, the Pittsburgh Regional Health Initiative (PRHI) is one of the nation's first regional collaboratives of medical, business, and civic leaders organized to address healthcare safety and quality improvement as a social and business imperative. PRHI has guided efforts to drastically reduce hospital-acquired infections, bolster the healthcare workforce, and transform care delivery and payment through demonstration projects that smooth the transition for patients between medical and community settings and integrate physical and behavioral health care. PRHI is a founding member and plays a leadership role in the Network for Regional Healthcare Improvement (NRHI), a consortium of 30-plus multi‐stakeholder organizations across the U.S. that serves as a key resource for healthcare policy decisions.