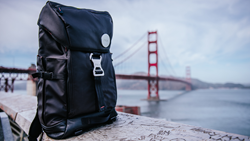 BackPAIX uses an app-managed smart badge system that can store files and media, and play music from your devices. It has an added option of creating your personal one of a kind Emoji through PAIX App Editor
San Francisco, CA (PRWEB) June 07, 2016
Today, PAIX launched a crowdfunding campaign for a connected, eco-friendly backpack. The intuitive design uses app-based technology and is ideal for urban commuters and travelers. It is now available on Kickstarter starting at $159.
BackPAIX is engineered to make commuting easier for cyclists and those who take public transportation. The bag's easy-charge system allows users to charge their mobile devices on the go, while its intuitive design allows users easy access to their belongings. It sits comfortably on the back and shoulders and also benefits business travelers, tourists by serving as a carry-on bag as well.
"BackPAIX uses an app-managed smart badge system that can store files and media, and play music from your devices. It has an added option of creating your personal one of a kind Emoji through PAIX App Editor. The bag can also sense pollution levels in the environment around you with PAIX Sensor installed," said co-founder Max Chang. "This central feature additionally functions as a turn indicator for cyclists and a flashing light for added visibility at night."
Among other distinguishing features, BackPAIX:

Is equipped with 30 litres of cargo space and a side pocket that easily fits one 15" laptop and one 10" tablet.
Is constructed entirely from weather-resistant Cyclepet® material, which is derived from recycled PET bottles.
Has a slide-over strap that firmly fastens over a luggage handle, and stows conveniently in an overhead bin.
Is operated by a Bluetooth enabled smart-docking system with built-in USB cables and power supply.
Has fun add-ons like a chrome bottle opener, USB charging pocket, tripod loop, shoe pocket, U-lock hook belt, and optional GoPro dock.
The inspiration for this project comes from a need for a smart and sustainable backpack. Co-Founder Cameron Liu is a frequent traveller himself, and often found that his carry-on bag lacked both essential travel features and a professional presentation.
"Backpacks have been around forever, but they never truly get connected," said Liu. He adds, "I'm a frequent traveller and it always bothered me how my backpack can't keep up with me. It can't charge my dead cellphone, and it looks pretty unprofessional at the office. I needed a bag that could keep up with my day-to-day lifestyle, one with unlimited possibilities that was smart and sustainable. That's how the idea for BackPAIX was born."
BackPAIX's Kickstarter campaign runs from June 7 until July 27. For a full rundown of the pledge levels visit their Kickstarter page. Media wishing to demo BackPAIX or interview their personnel should contact PR agent, Borjana Slipicevic.
Media Contact
Borjana Slipicevic
Funded Today
+1.778.858.2595
PR(at)funded(dot)today