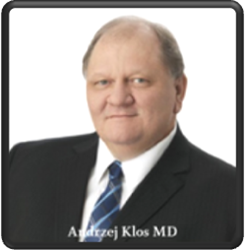 Scotch Plains, NJ (PRWEB) June 28, 2016
Dr. Andrzej Klos has been a pediatrician at Hoboken Pediatrics since 1994. After graduating from Pomeranian Academy of Medicine, he served as the Depute Head of Internal Medicine and Vice-Director of Cardiology Services in his native Poland. Emigrating from Poland, he decided that he would like to specialize in medical services for children. Completing his Pediatric Residency at the Jersey City Medical Center Seton Hall University, he became a faculty member at the same Residency Program teaching the young Residents in Pediatrics. He also developed a Pediatric Education Program for the Hudson County Pediatricians so that they could upgrade their knowledge and skills to better serve their child patients. He and Dr. Oko, also an NJ Top Doc, have pioneered the "Pediatric Hospitalist" program at St. Mary Hospital in 1999 so that children, admitted to the hospital, were about to receive 24 hour, immediate attention from fully trained Pediatricians. He is Board Certified in Pediatrics and is an active fellow of the American Academy of Pediatrics. He continues to teach Pediatrics to the Family Medicine Residents of St. Mary Hospital. Dedicated to his patients and their families, based on his vast experience in medicine and 30 years of work he has developed many innovative Pediatric management services in the Hoboken Pediatrics office to best service these families in the most efficient manner possible. His personality is best described by the St. Mary Hospital Family Residents, "He is very knowledgeable, thorough and compassionate – very patient and approachable."
The team of specialists at Hoboken Pediatrics provides care for newborns, children, teens, and young adults up to the age of 18. Their services include well baby exams and consultations when children are ill. Lactation consulting is available for women who breast feed. They also offer vaccinations, along with speech, vision, and hearing testing - even painless ear piercing!
Many of their screenings can be performed on very young children so they are able to diagnose and treat potential problems as early as possible. They understand the importance of blending modern medical advances with holistic care. For this reason, they specify antibiotics and other medications with great restraint and are always happy to discuss alternative treatments to help your child get and stay well.
At Hoboken Pediatrics, they offer a wide range of services, including: Vaccinations, Illness Diagnosis & Treatment, and Check Ups. Additionally, they are affiliated with Hackensack Medical Center, so if needed they can refer patients to the best care possible in the area. Flu shots are by appointment only.
Recent Patient Testimonials:
"I have four children and for years my prior pediatrician said my children had allergies. It wasn't till I met Dr. Klos, who took his time to order the right blood exams that later revealed my children did not have allergies. He took his time in trying to find what is the actual cause of their illness, and once he did, he spent his time to explain everything to me in layman's terms, and figuring out a course of action. His expertise doesn't just end with treatment, but he followed up with my children to ensure they were improving. In my opinion, I wish I would have found Dr. Klos a whole lot sooner! Two thumbs up!"
"I definitely highly recommend Dr. Klos as a best pediatrician ever. Dr. Doctor Klos never felt in any diagnosis. Great human being who always puts his patients first. Excellent and courteous staff."
"Dr. Klos is one of the best pediatric doctors in New Jersey. I wouldn't change him for the world he is one of the best. Been with him for 20 years. He is my daughters doctors and now, my grandbaby's. He is awesome."
Dr. Andrzej Klos is conveniently located in Hoboken, NJ. For more information, please visit his full online profile at http://njtopdocs.com/nj-doctors/andrzejklosmd/
About Us
NJ Top Docs is a comprehensive information resource of Top Doctors, Dentists and Hospitals. We are profiling over 900 Healthcare Providers and have made it convenient for you to find them.
NJ Top Docs allows patients to "meet" these providers online before making their appointment.
For more information, visit http://www.NJTopDocs.com.
You can also follow us on Facebook – Twitter – YouTube