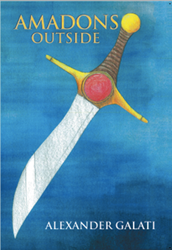 How we respond to adversity makes all the difference.
SYDNEY (PRWEB) June 08, 2016
In literature and film, strong female protagonists such as Katniss Everdeen and Hermione Granger each made challenging decisions as young adults that impacted their lives.
Alexander Galati, a high school student and author of "Amadons Outside," highlights this important time in individuals' lives in his coming-of-age fantasy novel. Galati's book, which is based off a game he invented as a 7-year-old, features two female main protagonists, emphasizing the importance of how young women deal with the transition to adulthood. As a child, he played the game with his brother and two female cousins.
"As a high school student, I am quite familiar with the challenges involved with growing up," Galati said. "By focusing on two female heroines, I was able to draw attention to this change that young women experience."
Through the main characters' decisions, Galati aims to show readers that despite difficult circumstances, it is always possible to find the will to continue.
"Sometimes in life we face obstacles that are tough to overcome," Galati said. "How we respond to adversity makes all the difference."
For more information, visit http://www.amadonsoutside.com.
Amadons Outside
By Alexander Galati
ISBN: 978-1-5144-4150-3
Available in softcover, hardcover, e-book
Available on Amazon Barnes & Noble and Xlibris
About the author
Alexander Galati is a high school student at Hunters Hill High School. In his free time, he enjoys writing, painting and playing the piano. He resides in Ryde, Australia.
# # #
**FOR IMMEDIATE RELEASE**
For review copies or interview requests, contact:
Brandon Kors
317.602.7137
bkors(at)bohlsengroup(dot)com