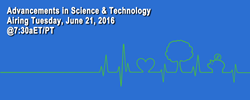 Jupiter, FL (PRWEB) June 17, 2016
DMG Productions announces the upcoming airing of Innovations with Ed Begley, Jr., scheduled to broadcast on Tuesday, June 21, 2016 at 7:30aET/7:30aPT via Discovery Channel.
Aglytix develops technology solutions that focus on improving crop yield while benefitting the environment. In this segment, Innovations viewers will learn about how the Aglytix technology uses multiple data sources, including drones, to detect, locate, quantify, predict and diagnose crop production issues and their impact on yield.
The episode will also explore Heliae, an innovative company known for producing products and technologies from algae and other under-developed organisms to improve the way people live. Focusing on Heliae's mission to unlock the full potential of these organisms by turning research into solutions, viewers will learn about Heliae's current products, which range from human and animal nutritional products to cutting edge biofertilizers.
Next, the show will feature Karmic Labs, a financial technology company dedicated to changing the way companies spend money. Spectators will learn how their technology provides businesses with complete oversight and instant expense reporting that syncs to accounting software, eliminating the need for reimbursements, while giving a company more control of their finances.
Additionally, the show will focus on the technology behind International Audio Holding, the company behind the globally renowned and prolific brand known as Crystal Cable. Viewers will peer into the advanced technology that goes into Crystal Cable's revolutionary products, for which their elegant appearance, clarity of concept, elegance of engineering, and flawless finish are known.
"From science and technology, to the latest breakthroughs in medicine and beyond, Innovations explores it all," said Michele Nehls, Producer for the Innovations TV series. "We look forward to enlightening audiences on these amazing breakthroughs taking place."
About Innovations & DMG Productions:
Innovations, hosted by award winning actor Ed Begley, Jr., is an information-based series geared toward educating the public on the latest breakthroughs in all areas of society. Featuring practical solutions and important issues facing consumers and professionals alike, Innovations focuses on cutting-edge advancements in everything from health and wellness to global business, renewable energy, and more.
DMG Productions (responsible for creating the Innovations show) includes personnel specialized in various fields from agriculture to medicine, independent films to regional news and more. Our field producers work closely with experts in the field to develop stories. This powerful force enables us to consistently produce commercial-free, educational programming that both viewers and networks depend on.
For more information visit: http://www.InnovationsTelevision.com or contact Michele Nehls at: (866) 496-4065 x 824 or via email at: Michele(at)innovationstelevision(dot)com.