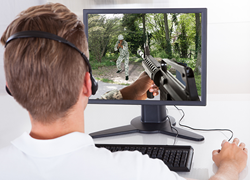 "This is an emerging area, and our tax answers should prove helpful to the state DORs that use TTR, our consulting clients, and our corporate customers."
McMinnville, OR (PRWEB) June 07, 2016
What is Non-Interconnected VoIP?
Non-Interconnected VoIP is where people can talk using a device that is not connected to the "normal" phone network. For example, Xbox Live or other online game systems that permit players to talk to one another but do not allow players to talk to someone on their work, home, or cell phones are examples of non-interconnected VoIP.
"Non-interconnected" means – not connected. VoIP means voice over internet protocol. This means voice conversations using internet connections and computers or, in the case of non-interconnected VoIP, gaming consoles. Simply put, if someone is using a computer-based communication system that does not permit them to call or get a call from someone else on a cell phone, they are probably in the world of non-interconnected VoIP.
Ken Webster, head of research at TTR had this to say: "Tax is complicated. It becomes much more complicated when you don't understand what the thing is that you are trying to accurately tax. This is the situation for many with in-game communications or other communications that are disconnected from the normal phone system. During our months of research, we were surprised to discover just how many possible taxes, fees, and surcharges apply to this service across all states. This is an emerging area, and our tax answers should prove helpful to the state DORs that use TTR, our consulting clients, and our corporate customers."
A complete list of every tax, fee, and surcharge that applies to non-interconnected VoIP is available from TTR. To find out more, please contact TTR at 866-578-8193 or visit them on the web at http://www.ttrus.com.