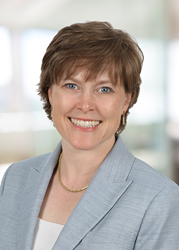 We are thrilled to add Carolyn's exceptional, incisive research capability to Cornerstone's advisory proposition - Erika Karp, CEO and Founder of Cornerstone Capital Group.
New York, NY (PRWEB) June 06, 2016
Cornerstone Capital Inc., a leading financial services firm offering investment advising, corporate consulting, and investment banking services, has named Carolyn Trabuco as a Managing Director and Global Thematic Research Analyst.
Trabuco has spent over 25 years in global investing, where she has identified dynamic secular changes, made investment recommendations, developed business and industry models, valued companies, and assessed risk and opportunity around global commodities, companies and industries. She will be based in New York and report to John Wilson, Cornerstone's Head of Corporate Governance, Engagement and Research.
"We are thrilled to add Carolyn's exceptional, incisive research capability to Cornerstone's advisory proposition. Using the enhanced analytical processes associated with an ESG (Environmental, Social and Governance) lens will allow us to optimally support the investment decision-making capabilities of our clients and our firm," said Erika Karp, CEO and Founder of Cornerstone Capital Group.
"The investment community has always wanted to invest where it sees both short-term performance and long-term gains. I have had the greatest success when I have focused on the rationale behind strategic decisions designed to bring about both long term growth and prosperity." said Trabuco. "I have known Erika and John for many years, I consider them to be the best in the business, and I look forward to joining the Cornerstone team."
Trabuco has been at the forefront of several emerging and transformative markets — including healthcare information technology, wireless communications, and the early commercialization of businesses on the internet. Most recently, Trabuco has been an independent board member of Azul Linhas Aereas, a commercial airline in Brazil, which she co-founded in 2007.
She started her analytical career in 1991 at Fidelity Investments and Fidelity Management and Research (FMR) and transitioned in 1995 to the sell side as an equity research analyst first at Lehman Brothers, then at Montgomery Securities and First Union Capital Markets. Moving to the hedge fund industry in 2002, Trabuco joined Pequot Capital's CORE Global team where she identified a meaningful step-up in demand of global resources that helped guide the firm's investment strategy. In 2009, she joined Phibro Trading, where she conducted highly technical analyses on the growth rate of US oil production.
Trabuco has served as chairman and board member for several non-profits focused on education both in the US and Brazil including Worldfund, Earthplace, the IRT at Phillips Academy and her local Scholars and Athletes Serving Others (SASO) branch tackling the challenges of fundraising, strategic positioning, community service and stakeholder relations. She holds a B.A. in Art History from Georgetown University.
"Carolyn brings extraordinary insight and dynamism to her work as a thematic analyst, perfectly complementing our existing research capabilities," said Wilson. "We are delighted that she will be joining our ongoing efforts to more fully integrate governance and sustainability into investment research."
About Cornerstone Capital Group
Founded in 2013, Cornerstone Capital Inc. is a financial services firm based in New York. The mission of the firm is to apply the principles of sustainable finance across the capital markets enhancing investment processes through transparency and collaboration. In offering investment consulting and advising, investment banking, and strategic consulting services, Cornerstone works with asset owners, corporations and financial institutions, promoting new research in the field of Environmental, Social and Governance (ESG) analysis, and facilitating capital introductions for organizations around the world engaged in sustainable business practices. Cornerstone's Board of Directors, Global Advisory Council and Staff partner with organizations including the World Economic Forum, the Clinton Global Initiative, the Sustainability Accounting Standards Board, the UN Global Compact and the Principles for Responsible Investment to work towards a more regenerative and inclusive form of capitalism.
Cornerstone Capital Inc. is certified as a women-owned business and is an investment advisor registered with the Securities and Exchange Commission. Securities offered through Strategic Marketing Solutions Ltd., LLC. Member FINRA/SIPC.