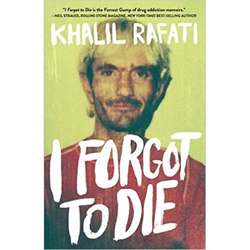 Pasadena, California (PRWEB) June 09, 2016
Pasadena Recovery Center is pleased to welcome Khalil Rafati to their groundbreaking speaker series on Wednesday, June 15th, at 12 P.M. Khalil Rafati is the author of I Forgot to Die, an autobiography detailing his struggles through drug addiction, homelessness, darkness, and how he overcame them and entered the Light. Rafati is a graduate of Pasadena Recovery Center and is returning on the thirteenth anniversary of the day he checked into the program.
"We are so very honored to welcome home our esteemed alumn, Khalil Rafati, to be our featured guest for this month's speaker series," says Michael Bloom, CEO of Pasadena Recovery Center. "We are all looking forward to hearing his incredible journey towards recovery and what led to Khalil's entrepreneurial success."
Khalil is the owner of SunLife Organics, a rapidly growing chain of popular juice and smoothie bars in California, as well as the owner of Malibu Beach Yoga. He also founded Riviera Recovery, a transitional living facility for drug addicts and alcoholics.
At the invitation of Khen Rinpoche Geshe Kachen Lobzang Tsetan, a Tibetan Buddhist monk from Ladakh, India, Khalil joined the board of Tashi Lhunpo Monastery. He also serves on the board of the Siddhartha School, which seeks to preserve the Tibetan Buddhist culture and language and provide children in the remote Himalayas with a well-rounded education.
Pasadena Recovery Center Speaker Series hosts amazing authors, entrepreneurs, celebrities, and experts to talk about their personal experiences with addiction and the way it has affected both themselves and the people around them. Previous guests include Dr. Drew Pinsky, Bob Forrest, Mackenzie Phillips, Robert Shapiro, Steve-O, Kristen Johnston, David Sheff, Kevin Sabet, Pat O'Brien, Candy Finnigan, and many more.
Pasadena Recovery Center: Located in the charming historic district of Pasadena, the Pasadena Recovery Center was co-founded in 2000 by renowned psychiatrist Dr. Lee Bloom, his daughter Alison Triessl, and his son Michael Bloom. The 98-bed drug and alcohol treatment center is nationally known for its 12-step based comprehensive treatment program and highly skilled, licensed and certified staff. Pasadena Recovery Center is dedicated to providing compassionate, comprehensive care to those suffering from chemical dependency and is proud to offer lifesaving and life-changing treatment at an affordable cost. Pasadena Recovery Center offers network providers for insurance. The Pasadena Recovery Center's goal is to reintroduce sober individuals into society with the skills necessary to lead meaningful, productive lives and offers sober housing in addition to treatment. Spruce House is located only minutes away from their facility and is committed to providing an affordable home-like environment for men in early recovery from chemical dependency.