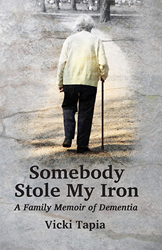 The goal is to offer hope to those whose lives have been intimately affected by dementia, letting them know that they are not alone.
Amarillo, Texas (PRWEB) June 17, 2016
According to the Alzheimer's Association, in 2013, 15.5 million caregivers provided an estimated 17.7 billion hours of unpaid care. Navigating the waters of dementia can be frightening, unleashing a myriad of emotions for everyone involved, precipitating anxiety and grief, anger and frustration, extreme sadness and feelings of hopelessness. After Vicki Tapia's mother was diagnosed with Alzheimer's disease, followed closely by her father with Parkinson's disease-related dementia, Tapia struggled to find practical, helpful information. Praeclarus Press released the memoir, Somebody Stole My Iron in 2014 and is pleased to offer a companion webinar, Dementia Diagnosis: Caregiver Conundrum.
In Tapia's webinar, find out the difference between dementia and Alzheimer's disease, as well as signs of normal aging versus dementia. Take a journey through dementia awareness with stories from Vicki Tapia's book, discuss how to recognize signs of caregiver burnout, and hear her share ideas on how to cope with caregiver guilt. Additional topics include techniques to maneuver through the behavioral changes that occur and ways to facilitate better communication with the affected person.
Read Tapia's most recent blog post discussing the importance awareness plays in removing the stigma of Alzheimer's Disease. During the month of June listen to Tapia's "Dementia Diagnosis: Caregiver Conundrum" webinar for no fee. To receive access, use code password: care. Additionally, enjoy 15% off her book using code ENDALZ when checking out in the Praeclarus Press online store.
Vicki Tapia, a breastfeeding educator for over 30 years, found her energies redirected towards the other end of life when both her parents were diagnosed with dementia. She recently retired from the pediatric clinic where she has worked since 1989 to focus on writing and other as-yet undiscovered adventures. The mother of three grown children, she lives with her husband and Mini-Schnauzer in south central Montana.
Praeclarus Press is a small press founded by Kathleen Kendall-Tackett, Ph.D., IBCLC, FAPA and specializes in women's health. It features books, webinars, and products that support women's health throughout their lifespan. Based in Amarillo, Texas, the mission of Praeclarus Press is to produce materials that change women's lives.