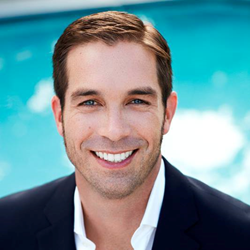 Miami Beach, FL (PRWEB) June 09, 2016
Miami Beach waterfront home and condo real estate expert Julian Johnston completed a record setting sale for land in the Venetian Islands at 28 West San Marino Drive, Miami Beach. With 103 feet of waterfront it is one of the few coveted lots that has unobstructed downtown sunset views.
The 12,906 square feet of land at 28 West San Marino Drive was sold for $8,020,000 or $621 per square foot to a couple from the state of New York. The buyers do not wish to disclose their names, but buyers did say they plan to improve the property which has a small house from the 1930's. The seller is Venetian Marino Investments LLC who bought the property in March 2009 for $3,830,000. The closing took place on June 8th 2016.
San Marino Drive is part of San Marino Island, one of the six Venetian Islands. The Venetian Islands are located between Miami and Miami Beach to the west and east, respectively. Besides San Marino, the other islands within the waterfront community include: Biscayne Island, San Marco Island, Di Lido Island, Rivo Alto Island, and Belle Isle. Each of these upscale islands are connected via the Venetian Causeway.
About Julian Johnston
Julian Johnston is a luxury Miami Beach Realtor specializing in Miami waterfront homes and condos for sale. In 2012, Julian achieved a Florida record high sale by closing at $25,000,000 the penthouse at Continuum in Miami Beach. In 2015 he was the top ranked #1 Broker in Miami Beach with sales over $120,000,000, and the #1 Waterfront Home Broker in the islands surrounding Miami Beach. He currently is the broker owner of Calibre International Realty selling luxury waterfront homes and condos in Miami Beach. You can contact Julian Johnston by calling 305.502.3985 or at Julian(at)MIAwaterfront.com