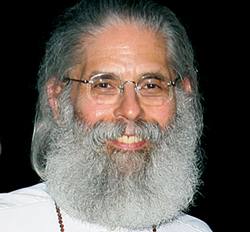 AMI Meditation can enhance homeostatic balance and relieve burnout. -- Leonard Perlmutter
AVERILL PARK, NY (PRWEB) June 07, 2016
According to The American Meditation Institute founder Leonard Perlmutter, AMI Meditation techniques that can relieve and prevent physician burnout will be taught at the 8th annual mind/body medicine CME conference October 25-29, 2016 at the Cranwell Resort and Spa in Lenox, Massachusetts. Entitled "The Heart and Science of Yoga," this comprehensive mind/body medicine training for physicians is accredited through the Albany Medical College Office of Continuing Medical Education. In 2009, in support of the American Meditation Institute's continuing medical education accreditation for physicians (through the Albany Medical College and the American Medical Association), AMI conducted a retrospective case study of participants who completed Leonard Perlmutter's "Heart and Science of Yoga" course. The findings included these positive, reproducible, long-term health-promoting changes: significant reductions in stress and fear, decreased anxiety and depression, lowered blood pressure, lowered heart rate, improved restorative sleep, improved energy levels, Increased creative capacity, diminishment of migraine headaches, elimination of irritable bowel syndrome, enhanced happiness and optimism, reduced cholesterol levels, diminished or extinguished acute and chronic pain, weight loss and increased breathing capacity.
Leonard Perlmutter claims that, "When a highly respected ethicist like Arthur Caplan PhD publicly states that physician burnout has become an "epidemic" in our nation, it's a clarion call to earnestly examine the issues and to initiate a meaningful strategy that can reverse the current trend." Then he concludes, "The 'Heart and Science of Yoga' curriculum represents the oldest and most effective holistic mind/body medicine to relieve and prevent burnout, heal disease, manage addictive habits, alleviate stress and inflammation, and balance life-work responsibilities."
Upon completion of this conference, participants will be able to: 1. Develop equanimity, discrimination, will power, creativity and energy through a daily practice of AMI meditation and diaphragmatic breathing; 2. Incorporate long-term strategies for healthy lifestyle choices using Yoga Psychology; 3. Demonstrate knowledge of the principles of both Ayurveda and Epigenomics; 4. Identify yogic practices to transform trauma and increase resilience; 5. Recognize the physiological benefits of Easy-Gentle Yoga (exercises for lymph system detox, joints, glands, muscles and internal organs); 6. Help themselves and their patients reduce conditioned habits of negative thinking and other symptoms of burnout through the healing powers of mantra science; 7. Utilize "Food as Medicine" to maximize personal wellbeing; 8. Use Chakra Psychology (subtle emotional/mental causes of stress) to diagnose and treat dis-ease, and, 9. Recognize how meditation changes the neural pathways in the brain.
Each faculty member at this year's CME conference is committed to the advancement and training of Yoga Science as holistic mind/body medicine. Presenters will include faculty director Leonard Perlmutter, AMI founder, philosopher, educator and award-winning author; Mark Pettus MD, Director of Medical Education and Population Health at Berkshire Health Systems; Susan Lord MD, faculty member and holistic health consultant for Kripalu Center for Yoga and Health; Anthony Santilli MD, board-certified in Pulmonary and Critical Care Medicine; Prashant Kaushik MD, board-certified Rheumatologist; Sara Lazar PhD, instructor in the Department of Psychiatry at Harvard Medical School, and an Associate Researcher in the Psychiatry Department at Massachusetts General Hospital; Jesse Ritvo MD, Assistant Medical Director, Inpatient Psychiatry, University of Vermont Health Center; Beth Netter MD MT, holistic physician and acupuncturist, Albany, NY; Jyothi Bhatt BAMS, Ayurvedic practitioner and faculty member of Kripalu School of Ayurveda and Physician's Assistant at New York Presbyterian/Weill Cornell Medical Center; and Jenness Cortez Perlmutter, faculty member of The American Meditation Institute.
Since 1995, Mr. Perlmutter has lectured extensively on the health benefits of Yoga Science as holistic mind/body medicine, including talks at the M.D. Anderson Cancer Center, Albany Medical Center, Stratton VA Medical Center, Berkshire Medical Center, University of Colorado Medical School, University of Wisconsin School of Nursing, Washington University Medical School, the United States Military Academy at West Point, and the Commonwealth Club of California. He also served on a distinguished "New York Times" panel of Yoga experts with Dr. Dean Ornish.
AMI founder Leonard Perlmutter emphatically states that, "The more consistently the therapeutic practices of Yoga Science are incorporated into daily lives of physicians and patients, most symptoms of stress related burnout and chronic complex diseases can be diminished or eliminated." Joel M. Kremer, MD, who is Board Certified in Internal Medicine and Rheumatology in Albany, New York and a recent AMI conference participant, is in full agreement. "This teaching has been an enormous benefit in my personal and professional life. I have less stress, more focus, and am able to serve my patients with greater clarity. It becomes surprisingly easy now to recognize the many clinical situations in which patients with somatic manifestations of 'dis-ease' could greatly benefit from Yoga Science."
In addition to Dr. Kremer, numerous medical pioneers and healthcare professionals such as Mehmet Oz MD, Dean Ornish MD and Bernie Siegel MD have also endorsed AMI's core curriculum. Previous conference attendees have also noted that the material presented has made a beneficial impact toward their personal and professional efforts at self-care.
-30-
About the American Meditation Institute
The American Meditation Institute is a 501(c)3 non-profit educational organization devoted to the teaching and practice of Yoga Science, meditation and its allied disciplines as mind/body medicine. In its holistic approach to wellness, AMI combines the healing arts of the East with the practicality of modern Western science. The American Meditation Institute offers a wide variety of classes, retreats, and teacher training programs. AMI also publishes "Transformation" a bi-monthly journal of meditation as holistic mind/body medicine. Call 800.234.5115 for a mail or email subscription.
Media Contact:
Robert Washington
60 Garner Road
Averill Park, NY 12018
Tel: 518-674-8714
Fax: 518-674-8714