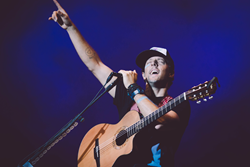 Fairfield, CT (PRWEB) June 06, 2016
Multiple Grammy Award-Winning musician Jason Mraz brings An Evening with Jason Mraz and his Guitar to The Warehouse at Fairfield Theatre Company on Tuesday, June 21. Since beginning headlining tours back in 2002, Mraz has performed
in Connecticut only three times. He now returns in a few weeks to treat Fairfield County's newest venue to an intimate, solo performance.
Mraz made a conscious decision in 2014 to perform in venues smaller than the usual amphitheaters and arenas. He selected a number of historic theaters and concert halls such as London's Royal Albert Hall, Paris' Casino de Paris, Amsterdam's Royal Theatre Carré, Frankfurt's Alte Oper, and Hamburg's Laeiszhalle. He now chooses to perform in The Warehouse at Fairfield Theatre Company for his only Connecticut stop on this 12-date tour.
One of the hardest working and most beloved artists, Mraz's journey has propelled him from the San Diego coffee house scene to arenas, amphitheaters, and stadiums all over the world. A two-time Grammy Award winner and six-time nominee, Mraz made pop history with his record-breaking classic single, "I'm Yours," while also earning platinum and multi-platinum certifications in more than 20 countries.
The San Diego-based troubadour has proven a truly diverse creative presence. A dedicated surfer, farmer/gardener, filmmaker, and photographer, Mraz is first and foremost a committed global citizen. His impassioned social activism and philanthropic efforts span wide-ranging environmental advocacy and ardent support for LGBT equality. Through it all, Jason Mraz continually confirms and celebrates music's myriad forms and miraculous power, inspiring and delighting his countless fans around the world he calls home.
He says, "I'm inclined to sing songs that I need, that light my spirit. In turn, that gives fans what they want."
Tickets to experience An Intimate Evening with Jason Mraz and his Guitar are available to the public at 10 a.m. on Wednesday, June 10.
Visit http://www.fairfieldtheatre.org for samples of the music and ticketing information.
About Fairfield Theatre Company:
Fairfield Theatre Company is a highly-acclaimed nonprofit performing arts organization located in the heart of downtown at 70 Sanford St., Fairfield, Connecticut. FTC presents over 300 performances and concerts each year featuring outstanding national talent on FTC's StageOne in Fairfield, The Warehouse at FTC in Fairfield, the Klein Auditorium in Bridgeport, and the Norwalk Concert Hall. FTC's venues are widely recognized as being the best places to see live performances in the region. FTC is dedicated to providing the highest quality arts, entertainment, and educational experiences to the communities we serve.