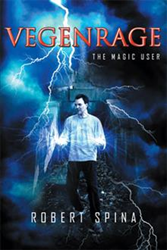 ROCHESTER, N.Y. (PRWEB) June 08, 2016
With adventure shows like "Games of Thrones" and "Harry Potter," we are able to see interesting characters and far-off places come to life in ways unimaginable in our daily lives.
"Vegenrage," a new novel from author Robert Spina, is a mystical adventure story of love, prophecy, violence and brutality that follows the journey of a man as he escapes to different worlds in search of realizing his unique, magical powers and, along the way, fighting those who try to stop him. The novel offers glimpses of the unknown, as characters are brought to life with dragons, magic and creatures in countless scenes filled with action and fantasy.
"The story resembles the mature version of the magical book series 'Harry Potter,'" Spina said. "The main character's journey to new worlds offers an exciting and thrilling escape from reality."
Spina has written five books, all of which he plays the male character, and has dreams of turning them into motion picture films. His new novel, Vegenrage, is the first installment in the adventure series, and he is now working on releasing the third book.
"My passion for writing stems from life adventures and struggles I have experienced," Spina said. "When creating my action novels, I watch the movie in my head and write it as best as I can."
For more information, visit http://www.robertspinabooks.com
Vegenrage: The Magic User
By Robert Spina
ISBN: 978-1-50357-549-3
Available in softcover, hardcover, e-book
Available on Amazon, Barnes & Noble and Xlibris
About the author
Spina has lived his life with an adventurous spirit and writes his novels with the dreams and hopes of making his novels into major motion pictures. He has written five adventure novels, in which he has played the main character. Spina is now working to publish his sixth book.
**FOR IMMEDIATE RELEASE**
For review copies or interview requests, contact:
India Heady
502.612.5630
iheady(at)bohlsengroup(dot)com