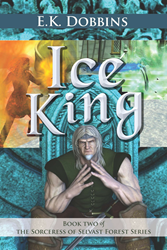 Great Adventure. Love the characters and engaging story. Hard to put down.
Belleville, IL (PRWEB) July 08, 2016
Book One of the Sorceress of Selvast Forest Series, Voyage to the Temple of Light, was published in 2015. In it, Milea takes an unexpected journey to the Temple of Light to find out what happened to her sister. Her adventure in Bri'al leads her to new lands full of danger, twists and turns.
In Ice King, Milea has accepted a quest that impacts the fate of all Bri'al. She needs to awaken one of the Eltis, so Milea must find the other half of a book that was discovered in the Temple of Light of the Boiling Seas where she rescued her sister Maya. Her journey will take her into the coldest regions of Bri'al, where the sun has just returned from a long and dark winter. Ruled by the Ice King, Koro Fone, the mighty country of Selcros is cold, dangerous and secluded. Milea must pass the monarchs of Selcros then face the dangers north of their borders. In order to continue on her way, she must first face a past not her own.
The paperback version of Ice King can be purchased at https://mira-booksmart.myshopify.com/products/ice-king?variant=22815826503 and http://www.apellezdreams.com. Look for the ebooks soon!
Those interested in meeting Ms. Dobbins can find her this summer at NatsuCon, St. Louis' Premiere Japanese Culture Convention. NatsuCon 2016 will be taking place July 22-24th at the lovely Gateway Convention Center in Collinsville, IL.
EK Dobbins is an Illinois native with a Bachelors Degree in Engineering and a knack for being creative. She began her creative journey as a senior in high school, writing stories and sharing them with her older cousin who is also a writer. After many years, the relationship with her cousin faded but her love affair with fantasy writing continued. She is currently the owner and operator of Apellez Dreams, a unique online gifts and boutique shop dedicated to selling paper target illustrations and archery accessories. She is an Archer with a traditional Mongolian Horse Bow and enjoys sewing, crafting and gardening. She is also learning theatrical swordplay. Reach out to her via email at ekdobbins(at)mail(dot)com or ekdobbins01(at)aol(dot)com.
To find out more, visit:
http://ekdobbins01.wix.com/ek-dobbins
https://www.facebook.com/AuthorEKDobbins
https://twitter.com/ek_dobbins