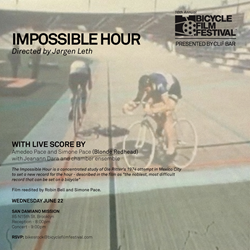 Adorama has announced that it will be sponsoring the 16th annual Bicycle Film Festival (BFF) in New York City.
New York, NY (PRWEB) June 22, 2016
Adorama, one of the world's largest photography, video, audio, imaging and electronics retailers, has announced that it will be sponsoring the 16th annual Bicycle Film Festival (BFF), which will take place in New York City from June 22nd – 26th. The BFF, whose foundation is centered around cycling as a way of life, supports bicyclists through films, art and culture.
For more information on the Bicycle Film Festival, please visit http://www.bicyclefilmfestival.com.
The BFF was created by Brendt Barbur, the founding festival director, after he was hit by a bus while riding his bike in New York City. Brendt wanted to create a positive experience from this negative event, and the first BFF was held in 2001 as a platform to celebrate the love for bicycling through music, art and film. Consequently, the BFF has been a driving force for the urban bike movement and the establishment of bicycling as a lifestyle in the city. It promotes a healthy life style while commuting in an ecologically friendly way.
Bicycle Film Festival Highlights
BFF 2016 will feature a number of film screenings, free events, art exhibits and more cultural experiences for cycling enthusiasts and film buffs alike. Some of this year's event highlights include:
Wednesday, June 22nd: Impossible Hour with live score by Blonde Redhead – FREE!

Impossible Hour: Directed by Jørgen Leth, this film is a concentrated study of Ole Ritter's 1974 attempt in Mexico City to set a new record for the hour, the most difficult bicycle record. Attend a free film screening with the live score done by Simone and Amedeo Pace of Blonde Redhead, at 8:00 PM at the San Damiano Mission church in Greenpoint, Brooklyn (85 N. 15th Street).
Thursday, June 23rd: Joy Ride Art Exhibition with internationally acclaimed artists – FREE!

BFF 2016 Joy Ride Art Exhibition: Start the day off by visiting the BFF's newly constructed Joy Ride Art Exhibition, hosted at its new gallery space. Following this, be sure to catch a diverse group of internationally acclaimed artists perform exclusively for the festival, including: Erykah Badu, Jonathan Brand, Kevin Bourgeois, Izzy Cohan, Jules DiBalincourt, Cheryl Dunn, Joel Fitzpatrick, Erik Foss, Ryan Humphrey, Emily Klass, Rebekah Maysles, Kenzo Minami, Cordell Murray, Melissa Godoy Nieto, Eric Oglander, Coke O'Neal, Josh Reams, Stefan Ruiz, Tom Sachs, Takuya Sakamoto, Lucinda Schreiber, Callum Schuster, Christian Thormann, Allison Wade, Amy Fraceschinni, Massan Fluker, Brandon Lockfoot, Samantha Casolari and Vik Muniz.
Friday, June 24th – June 25th: Three full days of film screenings throughout the city

Bicycle Film Programming: Join BFF for three full days of bicycle film screenings to celebrate the unique cycling community.
For event tickets and a full list of BFF 2016 events, please visit the Bicycle Film Festival official website.
Press Passes to the 2016 Bicycle Film Festival
Members of the media are invited to attend BFF film screenings and special events. For more information or to request a press pass, please contact Anya Nelson at anya(at)zazilmediagroup.com or Mary Becker at mary(at)beckerprny.com.
ADORAMA: More Than a Camera Store
Adorama is more than a camera store – it's one of the world's largest photography, video, audio and computer retailers. Serving customers for more than 40 years, Adorama has grown from its flagship NYC store to include the leading online destination for imaging and consumer electronics. Adorama's vast product offerings encompass home entertainment, mobile computing, and professional video and audio, while its services include an in-house photo lab, AdoramaPix; resources and gear for photographers, filmmakers, production studios, broadcasting and post houses, and recording artists through Adorama Pro; pro equipment rental at Adorama Rental Company; and the award-winning Adorama Learning Center, which offers free creative education in online channels such as the popular Adorama TV.
Adorama is listed as one of the top five electronics retailers by Consumer Reports, "Best of the Web" by Forbes.com, Internet Retailers Top 100, and is the official Electronics Retailer of the NY Giants.
Visit ADORAMA at http://www.adorama.com.