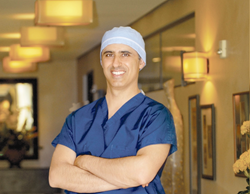 "What was once the most common cause for blindness, is now transforming instead, into a rite of passage, thanks to recent innovations."
Los Angeles, Calif. (PRWEB) June 08, 2016
June is Cataract Awareness month, and renowned eye surgeon and founder of the Assil Eye Institute, Dr. Kerry Assil, is raising awareness as he notices a growing trend in Cataracts among Americans occurring in individuals as young as in their 40s.
Affecting more than 22 million Americans, a cataract is a cloudiness of the eye's natural lens, which lies between the front and back areas of the eye, directly behind the pupil. Most cataracts start forming slowly over time at age 40 and affect people over the age of 50. Surprisingly, nearly half of the population has a cataract by age 65, and recently more Americans in their late 40s and 50s are developing cataracts. With changing lifestyles that include more activity and more technology, cataracts are no longer just your grandma's problem. Early signs of cataracts range from needing more light to read, to seeing a glare at night from headlights while driving, or just an overall fogginess in vision.
Dr. Assil, who is at the forefront of research and technology in eye surgery is now implanting a new contact lens that corrects both near & distant vision.
"In recent years, Cataract Surgery has achieved new highs, both in terms of safety and lifestyle liberation. What was once the most common cause for blindness, is now transforming instead, into a rite of passage, thanks to recent innovations. Most people can now have the option of becoming completely eyeglass independent for both near and distance, at the time of cataract surgery," says Dr. Kerry Assil.
Traditional cataract surgery is performed when the cataract is more advanced and the patient is much older. Today, with new advances, Dr. Assil is also able to implant a revolutionary new FDA approved multifocal lens, which will give younger patients the ability to correct both near & distance vision without glasses. With one-third of patients at the Assil Eye Institute under 60 years old, Dr. Assil is able to help patients address and treat cataracts at an earlier stage, when the patient is younger. The Assil Eye Institute is the first center in the U.S. to use lasers to improve the safety and speed of visual recovery from cataract surgery to ensure patients have a greater quality of life afterward.
Dr. Kerry Assil is a world-renowned eye surgeon and innovator, who continues to make significant advances in his field as a leader in research with state-of-the-art technology at the Assil Eye Institute. In addition to housing the best experts in eye care through his Beverly Hills & Santa Monica, Calif. practices, Dr. Assil continues to also train thousands of physicians in refractive and cataract surgery as well as being a regular media expert. As the physician of choice for professional athletes, numerous A-list celebrities and industry leaders, Dr. Assil is sought after by patients who travel from around the world to be treated by the best. His expertise has been featured on "The Doctors," Good Morning America," "The Today Show," "The Swan," "Home & Family," Wall Street Journal, US News & World Report, Los Angeles Times, USA Today, Time, People Magazine, and InTouch, among many others.
For additional information on Dr. Assil, please visit: http://www.AssilEye.com.