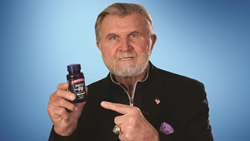 I have a continued dedication to optimal health and I demand the highest-quality, winning supplements,
New York, NY (PRWEB) June 10, 2016
Life Extension, a leading global authority on nutrition, health and wellness, announces today that one of professional football's greatest players and coaches, Mike Ditka, will act as the brand's spokesperson for their new prostate product, Mike Ditka's ProstatePM. Mike Ditka will collaborate with Life Extension on various marketing and public relations activities including retailer promotions and personal appearances, digital and social media campaigns, as well as philanthropic initiatives to support the brand's mission of extending the healthy human life span.
"This partnership with Mike Ditka parallels with our commitment to authoritatively deliver on our brand promise of quality, purity, and potency," says Paul Gilner, CEO of Life Extension. "Ditka's winning strength perfectly embodies Life Extension and what we, as a brand, stand for. In addition to being the "best of the best" in sports and in nutrition, he is proof that dedication to health is synonymous with success."
Ditka is best known for being an American gridiron football player and head coach. In the 1960s and early '70s he proved himself one of professional football's most talented tight ends, using his gift for catching passes to revolutionize his position. After retiring as a player, Ditka embarked on a successful coaching career, the highlight of which came in 1986 when he led the Chicago Bears to a Super Bowl victory.
"I have a continued dedication to optimal health and I demand the highest-quality, winning supplements," Mike Ditka states. "This partnership with Life Extension came naturally as their products offer the best ingredients, the best nutrition and are developed to the highest of standards, resulting in the most effective and useful products on the market."
The partnership will kick off with a campaign coinciding with Men's Health Month in June. For more information, visit http://www.DitkaProstatePM.com