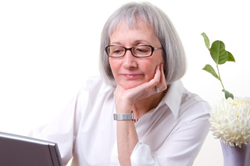 I like the convenience of taking Spanish classes online. I get to speak with a teacher in South America from my home. Classes are fun, and the system lets me learn at my own pace.
Lima, Peru (PRWEB) June 10, 2016
The two largest demographic group taking live Spanish classes online are baby boomers and seniors, according to the Alan La Rue, the director at WebSpanish.com, a leading online Spanish school.
"When we launched our online Spanish courses 11 years ago, we were certain that most of our students would be college students or professionals in their thirties and forties" says Mr. La Rue. "We were surprised when we began to attract boomers and seniors from day one, and these numbers only keep rising as more and more boomers hit retirement."
Mr. La Rue established the "Web Spanish" online Spanish school in 2005 when technology began to make one-to-one Spanish language classes online a practical option. The United States, partly thanks to its proximity to Latin America, and its large population, is the largest market. Students from the USA make up no less than 70% of the student body, and more than 70% of the students from the United States are between the ages of 50 to 70 years old.
There is no single reason why older students from the USA are deciding to take Spanish online, but some of the reasons cited are retirement to Mexico or Central America, the desire to travel independently, or simply the desire to stay mentally alert with a fun hobby.
"Our students discover that it's never to late to learn Spanish and they tell us that our online classes help them feel mentally sharp, since the format gives them lots of opportunity to practice speaking Spanish. Many of them studied at least some Spanish 30 or 40 years ago in college or in the Peace Corps and they are anxious to recuperate what they have lost".
Spanish lessons online are typically conducted over Skype and they connect students worldwide with Spanish teachers mostly based in Latin America.