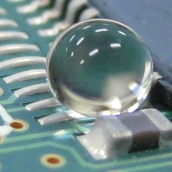 "AFM is effective in characterizing and probing surface properties and morphology of superhydrophobic films since it is both an imaging and surface probe technique." Prof Rigoberto Advincula, Department of Macromolecular Science Case Western
Santa Clara CA (PRWEB) June 07, 2016
Park Systems, worldleader in atomic force microscopy (AFM) is offering a nanotechnology webinar titled Superhydrophobic Coatings on June 15, 2016. Across multiple industries, Superhydrophobic Coatings are used for many applications such as textile cleaning, anti-corrosion coatings, self-cleaning windows and paints, biomedical devices that prevent infection or biofilm growth, oil spill clean-up, and de-icing.
This webinar will present some fundamental aspects of Superhydrophobic Coatings and methods of preparing superhydrophobic films and surfaces, as well as some recent examples of the latest applications.
The webinar is free and will be given by Dr. Rigoberto Advincula, Director of the Petro Case Consortium and Professor with the Department of Macromolecular Science and Engineering at Case Western Reserve University as part of ongoing series of talks for the Nano Academy from Park Systems.
"AFM is effective in characterizing and probing surface properties and morphology of superhydrophobic films since it is both an imaging and surface probe technique. That means that the wetting phenomena can be probed for both roughness and wetting or tribological phenomenon," explains Dr. Rigoberto Advincula. "Various AFM modes (both contact and non-contact) are used effectively for characterization."
New nanostructured coatings can be sprayed onto objects to make them waterproof. Examples of other effectssuch sprays can confer are anti-corrosion, anti-icing, and self-cleaning capability. Such additional properties can prove useful in protecting sensitive surfaces such as those on circuitry grids.
"Water repellant coatings are important because water can easily bring stains [that] result in more corrosion or become a medium for growth of biofilms. By preventing a surface from becoming easily wetted by water or a specific liquid, we prevent the transport and diffusion of species that are based on that medium," adds Dr. Advincula.
The latest materials being used include fluorinated and silicone based materials. However, the introduction of hierarchical roughness and a volume of air that is trapped in that roughness can result in non-wetting behavior. There are many examples in nature of this roughness (e.g., lotus leaves, water strider insects). Currently there is an interest on taking any polymer and introducing the artificial or programmed roughness to result in a Cassie-Baxter effect. The surface can be further modified by silane or thiol agents to lower the surface energy. Some examples of newer polymers used are conducting polymers and perfluoro polymers. Park AFM is important in measuring the surface roughness and surface topography of the coatings and films at all stages to determine accurate measurements and characterizations.
"Park NanoAcademy is proud to offer this webinar on Superhydrophobic Coatings, an important material science advancement that uses our Park AFM nanoscale imaging technology," comments Keibock Lee, President of Park Systems.
This webinar is part of an ongoing series offered by Park Systems' Nano Academy, a platform for providing education and shared knowledge on the latest nanotechnology advancements.
To Register go to:http://www.parkafm.com/webinar-15june2016
About Park Systems
Park Systems is a world-leading manufacturer of atomic force microscopy (AFM) systems with a complete range of products for researchers and industry engineers in chemistry, materials, physics, life sciences, semiconductor and data storage industries. Park's products are used by over a thousand of institutions and corporations worldwide. Park's AFM provides highest data accuracy at nanoscale resolution, superior productivity, and lowest operating cost thanks to its unique technology and innovative engineering. Park Systems, Inc. is headquartered in Santa Clara, California with its global manufacturing, and R&D headquarters in Korea. Park's products are sold and supported worldwide with regional headquarters in the US, Korea, Japan, and Singapore, and distribution partners throughout Europe, Asia, and America. Please visit http://www.parkafm.com or call 408-986-1110 for more information.
About Prof. Rigoberto Advincula
Prof. Rigoberto Advincula, Director of the Petro Case Consortium, is recognized industry-wide as an expert regarding polymer and materials challenges of the oil-gas industry. He is currently a Professor with the Department of Macromolecular Science and Engineering at Case Western Reserve University and is the recipient of numerous awards including Fellow of the American Chemical Society, Herman Mark Scholar Award of the Polymer Division, and Humboldt Fellow.