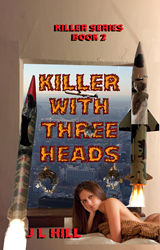 I wrote the Killer Series to show real monsters are not named Dracula, Frankenstein, or The Wolfman. But are those men who will do anything in the name of money and power.
VIRGINIA BEACH, VA (PRWEB) June 08, 2016
Killer With Three Heads continues the crime fiction of mobsters and gangsters from New York City. Bulletproof Morris 'MoJo' Johnson returns in a hailstorm of bullets looking for his daughter, and more importantly, her kidnappers. Nicky 'Nails' Rocci is ready to ascend to the role of Godfather of his New York Family and take a seat on the Board of the Syndicate. His friend can derail his entire plan and put him in the middle of a war with the other families, or worse, government forces.
A multi-genre author, Mr. Hill's follow-up to the 2013 five-star novel Killer With A Heart, "The writing is dense and intense, simultaneously richly coloured and dark...", says author Roberta Pearce. Killer With Three Heads continues in a style that puts the reader in the middle of a world where no act is too heinous and justice is decided by whomever is doling out the punishment. While the next chapter in the story of MoJo's and Nicky's rise to power, each novel stands on its own with an intriguing and intoxicating tale.
About the Author
J L Hill is a native New Yorker, born and raised in the Bronx. He spent his adolescent years in Fort Apache, the South Bronx during the '60s. He was exposed to the turmoil of Vietnam, Civil Rights, and the Sexual Revolution. Realizing the precariousness of life gave him an adventurous outlook to try anything once, and if it did not kill him, maybe twice.
J L Hill
RockHill Publishing LLC
June 2016/Mass Market Original/Crime Fiction
Trade Paperback; $ 14.99; 342 pages; 978-1-945286-03-2
eBooks; $ 3.99; 978-1-945286-04-9 & 978-1-945286-05-6
###