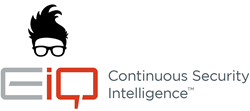 "We are very pleased to welcome these companies to our rapidly expanding channel partner program," said Phil Demeo, Vice President of Alliances, EiQ Networks.
Boston, Massachusetts (PRWEB) June 07, 2016
EiQ Networks, a pioneer in hybrid SaaS security and continuous security intelligence services, announced the expansion of its partner program with the addition of nine new partners so far this year, including Baverianvine, HUB Technical Services, Techordia, and VITECH. These new partners will offer EiQ's SOCVue® hybrid SaaS security services to mid-market customers in a variety of industries, including state government, education, financial services, healthcare organizations, and others.
The new resellers are representative of EiQ's partner program, which now includes more than two dozen resellers focused on a variety of markets and regions. Some of the new partners include:

Baverianvine (baverianvine.com) – A provider of security solutions, data analytics, enterprise/data center solutions, and managed and support services to companies throughout the United Kingdom.
HUB Tech (hubtechnical.com) – A Massachusetts, state-approved ITS53 service and solution provider and ITC47 state contractor for information technology products and professional services. HUB Tech offers security solutions, managed services, hardware and software solutions, and service and support to more than 175 cities, schools, and state agencies.
Techordia (techordia.com) – An IT consulting and managed services provider based in California that specializes in providing cybersecurity solutions to small and medium-sized businesses.
VITECH (vitechpros.com) – A Hawaii-based cybersecurity firm that provides a turn-key HIPAA compliance solution to covered entities and business associates.
"We are very pleased to welcome these companies to our rapidly expanding channel partner program," said Phil Demeo, Vice President of Alliances, EiQ Networks. "They offer a wide range of core competencies, from IT security and beyond, which is a requirement to be successful in today's competitive MSP market. Backed by EiQ's cybersecurity people, processes, and technology, they can confidently offer EiQ's SOCVue to provide their customers with best-of-breed cybersecurity protection, hybrid SaaS log management and co-managed SIEM as well as vulnerability management, all delivered in an affordable monthly subscription."
With an emphasis on providing comprehensive information on SOCVue, EiQ's partners have full access to the company's new Partner Portal. The Portal is designed to provide EiQ channel partners with easy access to documentation, marketing support, information on deal registration, and other resources.
About SOCVue, EiQ Networks' Hybrid SaaS Security Service
SOCVue is the only subscription hybrid SaaS service that combines people, process, and technology to deliver a cost-effective information security program, including:

Proactive and Continuous Critical Security Controls Auditing
Co-managed SIEM & Log Management
Continuous Vulnerability Management
24x7x365 Security Monitoring by Trained EiQ SOC Security Analysts
Incident Analysis, Notification, and Remediation Guidance
Compliance Reporting
About EiQ Networks
EiQ, a pioneer in hybrid SaaS security services, is transforming how mid-market organizations build enterprise-class security programs. Acting as an extension of our customers' IT teams, EiQ provides continuous security operations based on best-of-breed technology at a fraction of the cost of alternative solutions. EiQ is a trusted advisor to organizations that need to improve their IT security and compliance posture and protect against cyber threats and vulnerabilities. For more information, visit: https://www.eiqnetworks.com.