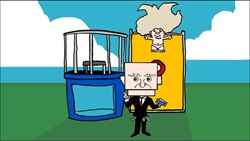 I don't have many games on my phone but this one intrigued me and I decided to check it out. It didn't disappoint. It was challenging but really fun and funny. The sounds bites are hilarious and kept me playing. Check it out. You won't be sorry!
Oakland, CA (PRWEB) June 07, 2016
Run… politicians are stealing votes. Race… them to PAC Treasure Chests. Dunk… a politician in the Political Dunking Booth.
The 2016 White House race isn't over yet. A mobile game highlighting the political antics of our 2016 Presidential Election politicians available across iOS and Android devices. Hilarious voice-overs, caricatures of four "well-known" politicians, the Political Dunking Booth, and dynamic game levels (think maze/obstacle course hybrid) make this game fun, challenging, and certainly timely. Dunk a politician today and feel better about the world.
Available now, White House Run, is the first game release of the planned Dunk'N Dash series by Miles Metal Media (M3). Utilizing their device's accelerometer, players tilt their screens to control their game character. Players also toss objects at a moving target by using a one-finger flick motion. Each series is planned to be culturally relevant in content and poke good-natured fun at the state of human existence. Low-budget, low-res, lowbrow, and high-fun.
Available exclusively through app stores on iTunes and Google Play, Miles Metal Media has cut the sale price to 99¢ just in time for the primaries. Free/lite versions are also available at each store. Promo codes for reviews available upon request.
Visit http://www.milesmetalmedia.com/dunk-n-dash.html for more game information, game trailers, and to download both full and 'lite' versions of Dunk'N Dash: White House Run in both the iTunes and Google Play stores.