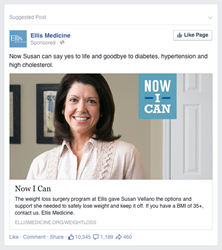 Our goal is to help our clients outshine the competition through honest, emotional storytelling.
Troy, NY (PRWEB) June 08, 2016
Hospital marketing specialists Smith & Jones received three Gold awards and a Silver award at the 2016 Aster Awards. The agency earned honors for its work on several service line campaigns and its website .
"Our goal is to help our clients outshine the competition through honest, emotional storytelling. These awards are a result of the collaboration between our clients and internal team, taking part in developing these stories," Smith & Jones CEO Mark Shipley said.
An Ellis Medicine bariatrics campaign received a Gold award in the service line category. The goal of the campaign was to help drive volume to the weight loss program through appointments, phone calls, and online seminar sign-ups. The campaign focused on life changing benefits of weight loss with the aspirational headline, "Now I Can."
Online display, TV and web video, print ads, and billboards ads highlighted the physical and emotional transformations of real Ellis patients who lost significant amounts of weight and the things they can do now that they couldn't prior to weight loss. The campaign drove approximately 2,500 unique visitors to Ellis' bariatric content over the first six weeks of the campaign, representing a 400% increase in traffic year over year.
A cancer screening campaign for Champlain Valley Physicians Hospital (CVPH) brought home the Gold and Silver awards for a physician referral direct mail piece. Referring physicians received the direct mail piece, which offered "A card trick that works like magic" the ability to save a life with a simple referral for cancer screening. The referral cards were distributed to patients and reminded physicians that the CVPH FitzPatrick Cancer Center was the best option for their patients due to its complete services and proximity.
Lastly, Smith & Jones' new website, http://www.smithandjones.com, brought home a Gold award in the self-promotion category. The website leverages the latest in website advancements, reflects the agency's healthcare specialization and showcases its new brand identity. Additionally, it provides high-level content, such as white papers, tools and videos that healthcare marketers can use to support their organizations.
The Aster Awards Program is an elite competition dedicated to recognizing the nation's healthcare marketing professionals for outstanding excellence in advertising. Judged by a panel of industry experts, winning entries are published in the Marketing Healthcare Today magazine.
About Smith & Jones
Smith & Jones is the marketing communications agency exclusively focused on hospitals and health systems that compete with academic medical centers. We imagine an America where healthcare is truly personal, where everyone has local access to a superior customer and clinical experience, and as a result, people live healthier lives. We contribute to that vision by helping our clients create meaningful and desirable healthcare brands, align their internal teams, engage new and existing patients, and drive downstream revenue. Together, we change the outcomes.