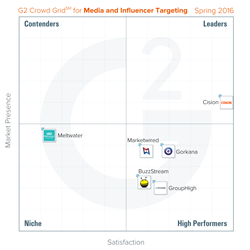 Chicago (PRWEB) June 07, 2016
G2 Crowd, the world's leading business software review platform, today released the Spring 2016 Media and Influencer Targeting Software Grid report to help businesses make the best media and influencer targeting technology decision. Cision was named a Leader in the report, receiving a strong customer satisfaction score with a large market presence.
Gorkana, Marketwired, GroupHigh and BuzzStream were named High Performers in the report, earning strong customer satisfaction marks with smaller market presence scores. Cision earned the highest overall satisfaction score and the highest overall market presence score.
The Grid leverages customer satisfaction data reported by authenticated users along with vendor market presence determined from social and public data. Based on a combination of these scores, each software solution is categorized as a Leader, High Performer, Contender, or Niche.
Key Findings:
•Cross-check data — Users frequently suggested cross-checking different influencer databases to compile the most thorough and accurate information. This can lead to users utilizing multiple media and influencer targeting platforms or manually confirming data.
•No database is perfect — There are not any solutions that users believed yield 100 percent accurate results for contact information, particularly journalist information. It was noted that due to rapid turnover in the journalism industry, it is nearly impossible for databases to keep up.
•Low overall satisfaction ratings — The highest average satisfaction rating in the category was for quality of support at 86 percent. Ease of use and ease of setup both averaged a satisfaction rating of 80 percent and only 76 percent of users believe the media and influencer targeting product they use is heading in the right direction.
About the Media and Influencer Targeting Grid report:
•The report is based on more than 440 reviews written by business professionals.
•Of the 27 products listed in G2 Crowd's Media and Influencer Targeting category, the ranked products each received ten or more reviews to qualify for inclusion on the Grid.
About G2 Crowd, Inc.
G2 Crowd, the world's leading business software review platform, leverages more than 75,000 user reviews to drive better purchasing decisions. Technology buyers, investors, and analysts use the site to compare and select the best software based on peer reviews and synthesized social data. Monthly more than a half-million people visit G2 Crowd's site. Co-founded by the founder and former executives from SaaS leader BigMachines and backed by roughly $12 million in capital, G2 Crowd aims to bring authenticity and transparency to business technology research. For more information, go to G2Crowd.com.