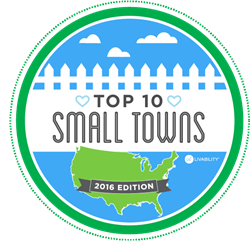 These aren't places that are big enough to make anyone else's lists, but they're great places to live and they deserve our praise."
(PRWEB) June 07, 2016
People are often looking for a getaway, or just a city with a slower pace and a more neighborly feel. With this in mind, Livability.com has named Traverse City one of the 10 Best Small Towns, 2016 . These towns offer a certain charm coupled with amenities you'd expect to find in larger cities.
To select these towns, Livability editors analyzed more than twenty data points on thousands of communities, following the same framework and principles as the Top 100 Best Places to Live. Factors included indicators of health, affordability, diversity, and safety, as well as the amount of entertainment and civic engagement. Places that are growing and thriving also stood out.
Once the numbers were crunched, Livability's editors combed through the short list, to find cities, towns and hamlets with a range of sizes and geographic diversity.
These aren't places that are big enough to make anyone else's lists, but they're great places to live and they deserve our praise.
Traverse City is home to friendly neighbors, a toprated school district and access to parks and other
quality-of -life conveniences. The city's economy is strong, rooted in tourism and agriculture. Traverse City
boasts numerous microbreweries and a diverse range of restaurants. With its freshwater beaches, sprawling vineyards and breathtaking views of Lake Michigan, it's easy to see why visitors and newcomers quickly all in love with the Midwestern town.
10 Best Small Towns, 20161. Traverse City, MI
2. Dobbs Ferry, NY
3. Sebastopol, CA
4. Lebanon, NH
5. Los Alamos, NM
6. Amherst Center, MA
7. Louisville, CO
8. Ellensburg, WA
9. Canyon, TX
10. Sitka, AK
###
About Livability.com :
Livability is a relocation site focused on how cities, especially small to mid sized cities, become great places to live. Through proprietary research studies, engaging articles and original photography and video, we examine topics related to community amenities, education, sustainability, transportation, housing and the economy. We then leverage that expertise to develop city rankings for a range of topics including small
towns, college towns and our annual Top 100 Best Places to Live.