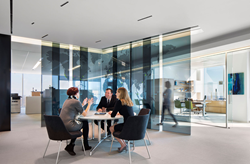 Vision Barrier films are enormously cost efficient
(PRWEB) June 08, 2016
Vision Barrier LLC has created a one-stop ecommerce shopping experience for elegantly functional, cost efficient graphics for glass. Vision barrier films perfectly compliment today's environment by beautifully defining space while providing the desired level of privacy control. "Put exquisitely designed and masterfully crafted environmental glass graphics films into your project…in a snap!" Quite amazingly, this is done at a significant cost savings that goes well beyond the initial purchase and continues throughout a project's life cycle.
Top 5 reasons why Vision Barrier films are enormously cost efficient solutions.
1. Upfront purchase cost of Vision Barrier films are a fraction of the cost of traditional methods of customizing glass for privacy, branding and visual enhancement.
2. Upgrading glass rather than replacing it eliminates the financial and environmental impact of removing and contributing framing materials and glass to landfills.
3. Unique ability to allow the transfer of light throughout interiors reduces energy cost associated with lighting while providing privacy and space defining functionality. While Vision Barrier films have the ability to let light in, they also reduce light pollution by minimizing the amount of light that trespasses from a building.
4. Vision Barrier films reduce the amount of damaging light waves that contribute to skin damage and the rapid weathering of office interiors. They also act as a preventative safety measure by creating spatial awareness of glass that often prevents harmful and costly collisions. In the case of a collision occurring, the Vision Barrier films strengthen the glass, reducing the chance of breakage along with mitigating injuries from loose, shattered glass.
5. Vision Barrier films can aid in qualifying your project toward a desirable cost savings LEED (Leadership in Energy and Environmental Design) certification.
Here is the link to the Buildings "2016 Money-Saving Products" winners.
Also keep a look out for Vision Barrier's new value filled sample kit that will be coming soon. To find out more about Vision Barrier products and services go to http://www.visionbarrier.com or give them a call at 844-570-2932.