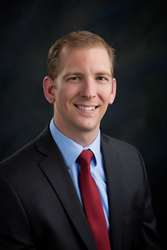 ...trained at one of the most respected ophthalmic institutes...
(PRWEB) June 08, 2016
Hollingshead Eye Center is pleased to introduce its new corneal subspecialist Ryan Barrett, MD, who will start seeing patients on August 15, 2016. By bringing on Dr. Barrett, eye surgeon Dr. Mark Hollingshead intends to expand his team's advanced eye care services.
Dr. Barrett graduated magna cum laude with a Bachelor of Science from Brigham Young University in Provo, Utah, before earning his medical degree from the University of Washington School of Medicine in Seattle. From there, Dr. Barrett went on to intern in San Diego at Scripps Mercy Hospital before relocating to Texas, where he distinguished himself in his residency and served as the Chief Resident of Ophthalmology at Baylor College of Medicine. Dr. Barrett's education and experience culminated in Minneapolis where he completed the prestigious Lindstrom Fellowship, an additional year dedicated to cultivating his subspecialty in anterior segment and refractive surgery. His primary focus is on the surgical correction of corneal disorders, refractive surgery, and cataract surgery.
"We're very fortunate to have acquired Dr. Barrett," says Dr. Hollingshead. "Our center is now able to offer patients specialized medical and surgical treatment for corneal diseases and conditions from a doctor trained at one of the most respected ophthalmic institutes in the country."
Learn more about Hollingshead Eye Center and its team of eye care professionals at HollingsheadEyeCenter.com, or call their Boise office at (208) 336-8700.