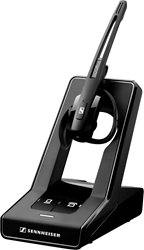 We're happy for the opportunity to exhibit alongside a formidable integrator in the contact center marketplace like SOFTEL, since our headsets offer notable benefits to companies that invest in sophisticated unified communications deployments
Old Lyme, Conn. (PRWEB) June 07, 2016
Sennheiser, a leading provider of premium headsets and speakerphone solutions, announces it will be co-located at an exhibit space with business partner and major telecommunications integrator SOFTEL at the NorthEast Contact Center Forum (NECCF). SOFTEL is a provider of contact center and unified communications (UC) services with 20 years' experience in the marketplace. The NECCF event takes place at Gillette Stadium in Foxborough, MA on June 14, 2016. SOFTEL and Sennheiser will be at booth #103 on the exhibit floor, situated in the venue's Putnam Club Clubhouse.
Sennheiser will demonstrate its innovative CC&O (contact center and office) wireless headsets and speakerphones, which provide outstanding intelligibility, performance and comfort for call center agents. Sennheiser's audio experts will be available along with SOFTEL's UC integration staff, who will consult with attendees on deployments ranging from cloud- to premise-based, virtualized, hosted, mobile and multi-media platforms. Such environments are enhanced by high-quality headsets, which can improve the agent/customer engagement experience that a sophisticated communications network is designed to provide.
All Sennheiser CC&O headsets are compatible with major unified communications providers such as Cisco and Avaya, and are certified for Skype for Business. The product line includes wireless, Bluetooth and DECT models such as the D 10 series; the SD wireless, Century, Circle, Culture, MB, and the recently-enhanced PRESENCE units; plus the award-winning SP 10 and SP 20 mobile speakerphones. These models deliver outstanding clarity, long-wearing comfort, exceptional durability and advanced features such as noise cancellation. They are purpose-built for contact center agents working in loud, stressful, and otherwise challenging office settings. Sennheiser's high quality solutions improve productivity, giving agents a more intelligible and comfortable experience, which helps them to provide better customer service.
"We're happy for the opportunity to exhibit alongside a formidable integrator in the contact center marketplace like SOFTEL, since our headsets offer notable benefits to companies that invest in sophisticated unified communications deployments," said Bill Whearty, vice president, sales and marketing, CC&O, Americas, Sennheiser Electronic Corp. "We continually look to increase our exposure in this space, since in-person encounters are the most compelling way to bring attention to superior audio in a business context. We find that most trade show attendees are familiar with Sennheiser in the consumer and prosumer markets, and are excited to find that our level of quality is available for workplace applications."
The NorthEast Contact Center Forum anticipates close to 300 contact center professionals and industry experts to attend the show, and works with more than 30 industry-leading sponsors. It delivers a full day of educational workshops, networking, peer to peer learning and guidance from industry experts. This year marks the 15th anniversary of the event.
Caption:
Sennheiser's SD Series offers wireless DECT headsets that meet the needs of all-day professionals in noisy environments.
About SOFTEL
Founded in 1993, SOFTEL provides multi-channel and multi-platform integrations and services for contact center, unified communications, cloud and multimedia environments. The company's expertise extends to mobility, infrastructure virtualization, technology security, IoT applications, voice biometrics, data analytics, social media integrations and more. http://www.softel.com
About Sennheiser
Audio specialist Sennheiser is one of the world's leading manufacturers of headphones, microphones and wireless transmission systems. Based in Wedemark near Hanover, Germany, Sennheiser operates its own production facilities in Germany, Ireland and the USA and is active in more than 50 countries. With 18 sales subsidiaries and long-established trading partners, the company supplies innovative products and cutting-edge audio solutions that are optimally tailored to its customers' needs. Sennheiser is a family owned company that was founded in 1945 and which today has 2,700 employees around the world that share a passion for audio technology. Since 2013, Sennheiser has been managed by Daniel Sennheiser and Dr. Andreas Sennheiser, the third generation of the family to run the company. As part of the Sennheiser Group, the joint venture Sennheiser Communications A/S is specialized in wireless and wired headsets and speakerphones for contact centers, offices and Unified Communications environments as well as headsets for gaming and mobile devices. In 2014, the Sennheiser Group had sales totaling €635 million. http://www.sennheiser.com