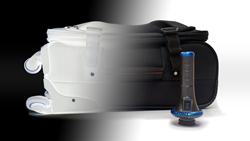 aroo - travel is quick and easy
San Diego, CA (PRWEB) June 13, 2016
Enter the next generation of travel. In an effort to powerfully compact clothes in a smooth and easy manner the aroo simple to use travel system is being launched.
Aroo is a small and portable handheld device that saves money and time. This lightweight revolutionary tool is the smart way to pack clothes.
Aroo will help you:

Fit most items into a single carry-on.
Avoid additional baggage fees and wait times at the airport.
Gives up to 50% more space in your suitcase.
Aroo is a sleek tool that compresses the air out of packed clothing. Combine the Aroo vac with a simple to use bag and sleeve, and then quickly compact the items to fit into a small carry on.
Lightweight, Easy to Use.
Aroo weighs less than 6 ounces and the easy sleeves are reusable. This small size allows for simple stowing of the tool in carry-on luggage. Plus, it only takes seconds to compress the items using the battery operated tool. This means saving time when packing to return back home.
Smart Packing Made Simple
Aroo is designed with a highly efficient third generation turbine impeller. And there are no cords to hassle with. It's battery operated and rechargeable. It's a smart system that makes packing quick and easy.
Learn more about aroo at our website, http://www.myaroo.com