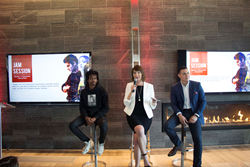 We feel that JAM Session will put Atlanta top of mind for the next generation of leaders and change makers looking for impactful ways to make their mark.
ATLANTA (PRWEB) June 07, 2016
ChooseATL, a movement dedicated to attracting and retaining top talent to metro Atlanta, and the Metro Atlanta Chamber today announced the launch of JAM Session, a national speaker series. The series -- a nod to Atlanta's music sector which is known for producing some of the world's biggest hits by mixing various genres to create new categories -- will bring together thought leaders from diverse backgrounds to exchange ideas and discuss ways to collaborate across industries.
JAM Sessions will feature 30-minute "collision" conversations that highlight how different sectors can "JAM" or work together to create transformative innovation. The first JAM Session took place at the Battery Penthouse in San Francisco on June 6. The event, which focused on healthcare innovation and the role of diversity in driving change, featured Jordan Amadio, MD, a neurosurgeon and co-founder of NeuroLaunch; Dani Ayers, senior director, Affiliates, ToolBank USA; Marquesa Finch, co-founder of P2HEALTH; and singer-songwriter Raury.
Tackling Healthcare
To explore how a collision of the arts and healthcare can make a world-changing impact, genre-defying musician Raury came together with Dr. Amadio to discuss the impact music can make on patient care and how it can be leveraged to develop groundbreaking healthcare technologies.
"One of the last industries to be fundamentally disrupted is healthcare, which is why we chose this bold topic for our first JAM Session," said Kornelius Bankston, director of Bioscience Industry Expansion at the Metro Atlanta Chamber. "Last night was a big step toward generating ideas on how the healthcare industry can work with other sectors to holistically transform patient care."
Highlighting Collaboration and Diversity
The launch of JAM Session comes as the tech industry continues to search for solutions to increase diversity. A recent report on PBS noted that the average workforce in Silicon Valley is 71 percent male. Of that demographic, 60 percent identify as white, 23 percent Asian, 8 percent Latino, and 7 percent African American.
To highlight the value that collaboration and diversity can have on the future of the tech industry, as well as the speed of innovation, JAM Session brought together Finch and Ayers who discussed navigating diversity issues in the tech industry and leveraging innovative technologies to create positive social and economic change.
JAM Session is one way that ChooseATL and the Metro Atlanta Chamber are showcasing the vibrancy of Atlanta to make the city top of mind for emerging talent.
"Atlanta is at the forefront of transformative innovation and always has been. It's our history, our truth to be a progressive region that always goes beyond traditionally siloed industry sectors, in order to be about something bigger -- to be about changing the world," said Kate Atwood, vice president of ChooseATL. "We feel that JAM Session will put Atlanta top of mind for the next generation of leaders and change makers looking for impactful ways to make their mark."
The next JAM Session will be held in Brooklyn, New York in the fall. To learn more about this and future JAM Sessions, please email info(at)chooseatl(dot)com. For more information on other programs by ChooseATL and the Metro Atlanta Chamber, visit http://www.chooseatl.com and http://www.metroatlantachamber.com or follow @ChooseATL and @atlchamber on Twitter.
About ChooseATL
ChooseATL is a regional initiative focused on telling a comprehensive story about Atlanta to attract and retain top talent and intentionally grow the region's prosperity in the global economy. The campaign highlights the abundant opportunity for career growth across the 29-county region, as well as the unique culture and highly-ranked livability. To join the movement, visit http://www.chooseatl.com or connect with us on Facebook, Instagram, Twitter, Snapchat and LinkedIn.
About The Metro Atlanta Chamber
The Metro Atlanta Chamber (MAC) serves as a catalyst for a more prosperous and vibrant region.  To advance economic growth and improve metro Atlanta's quality of place, MAC is focused on starting, growing and recruiting companies to the 29-county metro Atlanta region. The Chamber is also focused on expanding the region's innovation economy by promoting and strengthening connections to drive Atlanta's innovation and entrepreneurial culture. MAC is committed to being an active voice for the business community, serving as an advocate for a competitive business climate and telling Atlanta's story. For more information, visit http://www.metroatlantachamber.com/.