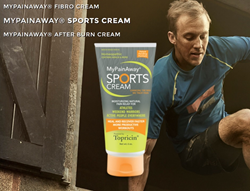 New Powerhouse Sports Formula
Rhinebeck, NY (PRWEB) June 13, 2016
Topical BioMedics, Inc., makers of Topricin & MyPainAway Products, announces the launch of their new powerhouse product - MyPainAway® SPORTS CREAM. With 17 active biomedicines, this topical, paraben-free, doctor-recommended cream takes a truly revolutionary step in changing the way professional athletes, practitioners, coaches, and sports enthusiasts worldwide treat pain.
From the trails to the track, gym and on the water, sports related pain can strike anywhere. MyPainAway® Sports Cream helps the body repair the damage that causes pain.
Says Topical BioMedics, Inc. Founder and Formulator Lou Paradise:
"This is an advanced formula design utilizing 17-natural biomedicines to support and enhance balancing the body's healing chemistries - maximizing the body's desire to heal the damage in joint, nerve and muscle tissue that is causing the pain. I specially formulated MyPainAway Sports Cream using our robust patented healing technology platform to provide a safe and effective means of treating the tough pains associated with intense physical activity. This advanced formula design uniquely provides a do-no-harm, robust, user-friendly treatment to stimulate the body's own power to heal itself, thereby addressing the cause of pain. Free of parabens and without petroleum or irritating chemicals, our new Sports Cream uses the highest quality natural biomedicines. This is to provide consistent, reliable performance in superior first aid treatment platform that helps maintain training schedules, vital to maintain excellent conditioning, as means of preventing avoidable injuries and the pain associated with them."
Some of the benefits MyPainAway Sports Cream includes: Harder workouts (use before and after workouts and on race day); Faster recovery; and Can help reduce the need/dependency for all oral pain pills as it prevents micro-tears in connective tissue and more...
MyPainAway® Sports Cream has already been enthusiastically embraced by athletes nationwide.
Says Victor Quezada - Spartan Race and Event Athlete:
"The new sports cream is amazing. Before and after every workout I put it on and no pain or soreness the next day. Even after races there is no soreness!"
MyPainAway® Sports Cream will also make its debut at the 40 anniversary Collegiate Women's Sports Award, Honda Cup. The Honda Sport Award has been presented annually by the CWSA for the past 40 years to the top women athletes in 12 NCAA- sanctioned sports and signifies "the best of the best in female collegiate athletics". Watch the award show live on June 27th, CBSSN at 9 pm EST.
Topricin products have supported this prestigious awards event for the last three years. The company is very proud of these dedicated athlete role models [some existing or past Olympians] whose wonderful contribution to excellence is much admired. Topical BioMedics, Inc., flagship product Topricin, will provide product donations and for this year, 120 6oz tubes of MyPainAway Sports Cream were shipped for the athlete honorees, board and advisory committee members, and previous honorees… many of which are also former Olympians, returning to participate in the 40th anniversary celebrations.
Available in 3oz and 6oz tubes, MyPainAway® Sports Cream is available to purchase direct at http://www.topricin.com/mypainaway-sports-cream
Take the Bite out of Pain http://mypainawaycreams.com/Sports/
About Topical BioMedics, Inc.: Topical BioMedics is a research and development leader in the transdermal application of natural biomedicines in combination, through its patented healing technology platform, Topricin. The company's flagship product, Topricin® Pain Relief and Healing Cream, was introduced in 1994 as an innovative 21st century approach of relieving the cause of pain at the cellular level by supporting an optimum healing response, assisting the body's desire to heal the damaged cells causing the pain. Topricin is now a leading natural therapeutic brand, both for active people and in patient care.
The products contain specialized formulations of 11-14 natural biomedicines, treating a wide range of pain ailments and awarded patents for the treatment of pain associated with neuropathy (diabetic and chemo-induced) and fibromyalgia. Topricin products are changing the way pain is diagnosed and treated and have become mandatory treatment protocol at world renowned medical centers. Treating the cellular cause of pain results in reduced dependency for all classes of oral pain pills including opioids.
This natural healing product line also includes; Topricin Foot Therapy Cream, specially formulated to treat the challenges foot and ankle pain issues. Topricin for Children, which received the Parent-Tested, Parent-Approved, Seal of Approval (with 5% of sales donated to a pediatric cancer foundation in NY State). The company launched the MyPainAway® (powered by Topricin) line of products. Its two new formulas MyPainAway Fibro Cream was formulated to provide viable pain relief for people with fibromyalgia, and MyPainAway After-Burn Cream that treats the cells damaged by a burn. MyPainAway Sports Cream available June 2016.
Topricin is proud to be, Made in the U.S.A., with lots of Love, pure biomedicines, no harsh chemicals, will not interfere with any other medicines making Topricin products ideal for the entire family, restoring hope and quality of life supporting a Healthy Active Lifestyle.
Topical BioMedics launched a free monthly pain management webinar in February 2015. Featuring Lou Paradise, president, chief of research, and pain management expert The webinars are streamed live the last Thursday of each month from 1pm to 1:45pm then archived on the company's WordPress blog and YouTube channel for on-demand access 24/7. https://topricin.wordpress.com/
Topricin is available in independent pharmacies, natural food and co-op stores nationwide, including Whole Foods, Sprouts, Pharmaca, The Vitamin Shoppe, Fred Meyer, Wegmans, CVS, Walgreens (Diabetic Section), and other fine retailers, as well as directly from the company.
For more information visit http://www.topricin.com.