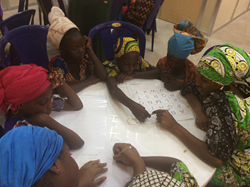 Carefully targeted, modest amounts of assistance and practical intervention, make it possible to put the brakes on the accelerating suffering.
Bethesda, Maryland (PRWEB) June 09, 2016
Boko Haram stole the headlines when it kidnapped hundreds of girls in 2014, but beyond the headlines lies an even larger threat to Africa's largest country. Tens of thousands of displaced children and teachers, and hundreds of destroyed schools, have resulted in a hunger and literacy crisis that threatens an entire generation, a country and an entire region.
Northern Nigeria has the highest percentage of children not in school in the world. In northeast Nigeria, an estimated 78% 6-17 year-olds cannot read, and according to a 2013 survey, nearly 42% cannot add two numbers with a sum under ten. The numbers for girls and women are even worse. Only 20% of women are considered literate.
The low literacy and numeracy rates are exacerbated by the number of children who are displaced, separated from families or orphaned; large numbers of displaced teachers; and schools that have been destroyed or closed due to the violent extremism in the area that targets the very education that is Nigeria's best hope. Against this backdrop, it is not entirely surprising that Nigerians in the northeast suffer the highest illiteracy, unemployment and poverty rates. These ingredients can be highly combustible.
To address these pressing issues of education and meeting the most basic of needs, the American University of Nigeria (AUN) has partnered with local religious and community leaders to establish a program for vulnerable Nigerian youths.
Education is Key: "Feed and Read"
Education has been shown to positively impact people's economic independence, health status, civic engagement and enjoyment of civil rights. The "Feed and Read" program offers a low-cost, highly scalable and replicable plan to address the situation. According to AUN President Margee Ensign: "Carefully targeted, modest amounts of assistance and practical intervention, make it possible to put the brakes on the accelerating suffering.
Within six months our goal is to get all of the participants to be able to read and do basic arithmetic, addition, subtraction, division and multiplication of two digit numbers."
The program goes beyond teaching literacy and numeracy. Like school programs the world over that provide meal programs for students, AUN serves a daily meal consisting of rice, beans, spaghetti and a sachet of water to all students in the Feed and Read program. It costs less than $2 per day to feed one child.
After six months, the children will have improved their literacy and numeracy by 50%
on average scores. The first six-month program ends in August.
The U.S. Special Representative to the United Nations Samantha Powell visited AUN recently and called efforts like Feed and Read a model for other countries.
"I think what you all have done here is really a model for how universities, not only in Nigeria but all around the world, can wade into some of the most complex and seemingly intractable challenges facing their communities. It's also a model for how you shape a rising generation of leaders," Ambassador Powell stated.
The long-term goal of Feed and Read is to reduce the number of vulnerable children in Yola by providing nourishment, basic education and skills training. If this is successful, Nigerian youth, who otherwise have little or no hope for a better future, will be able to move into more traditional school settings, find employment, be able to resist the entreaties of extremist groups such as Boko Haram, helping to bring long-term stability to the region.
For the time being, hundreds of children gather each week to be taught their lessons, sitting on plastic chairs or the dusty ground, often under a blazing sun. These hundreds are the fortunate ones. Many more yearn for an opportunity to learn to read and write. What's stopping them is limited resources. If there were more resources, even at a couple of dollars a day, more children would have the chance to get ahead.
Donations of any amount can be made by visiting the American University of Nigeria Foundation at http://www.aunf.org.