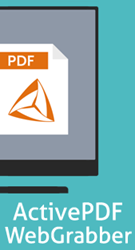 Auto-generate PDF bookmarks creates a more natural web-style viewing experience to access targeted content."
(PRWEB) June 08, 2016
ActivePDF, a leading provider of digital transformation PDF automation tools, announced the release of WebGrabber a batch conversion tool used in .NET applications to convert any web page or raw HTML string to PDF documents.
"The enhancements deliver a higher quality of fidelity with a more intuitive user experience," says Aaron Schnarr, Product Manager. "Ease of navigation within the PDF creates a more natural web-style viewing experience to access targeted content."
How organizations gain benefits using WebGrabber 2016:

Auto-generate PDF bookmarks to deliver quick access to targeted content
Consolidate URL HTML content for easy distribution
Create PDF versions of documents on or within web based applications
Convert high volumes of HTML vendor reports to PDF
Secure HTML content through encryption/digital signatures
Availability
ActivePDF offers a no-charge, 30-day trial of WebGrabber. Online visitors may also access success stories of how companies such as Pacific Life leverages WebGrabber to convert documents from HTML to PDF.
About ActivePDF
Founded 2000 - ActivePDF is a global provider of PDF server-based tools for integration within business processes, including Enterprise Content Management (ECM), Document Management, and Workflow solutions. The ActivePDF suite is designed to streamline large volumes of rendering and assembly of content into secure PDFs. We serve numerous verticals including: Healthcare, Financial, Manufacturing, Utilities, Engineering, Legal and Government. With a substantial market presence of over 23,000 customers and distribution in more than 300,000 server licenses within 90 countries. More info at: http://www.activepdf.com