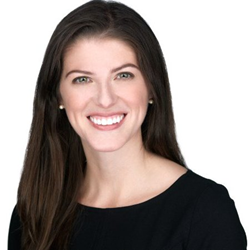 ATLANTA, GEORGIA (PRWEB) June 08, 2016
This summer, Southern Proper, an Atlanta-based clothier and modern haberdashery, has brought on Kathryn Serra Valentine to share both her business expertise and her passion for high-quality apparel. The addition comes just a few months after Southern Proper's Spring 2016 introduction of a full ladies' collection to their line of classic, Southern designs.
Kathryn will provide operations guidance and business insights as Southern Proper continues its transformation from men's accessory-maker to lifestyle brand.  She comes to Southern Proper's leadership by way of McKinsey & Company, a global consulting firm.  Prior to her work with McKinsey, Kathryn developed Lilly Pulitzer's customer and distribution strategies.  Kathryn was a Jefferson Scholar at the University of Virginia and received her MBA from the Kellogg School of Management.
"I am thrilled to be joining the Southern Proper team," said Kathryn, "I have been following the company since 2010, and have been impressed by their knowledge of their customer, high-quality products and distinctive brand. Given current market dynamics, this company is well-positioned for growth."
Company founder Emmie Howard commented, "Kathryn's business acumen along with her passion for the clothing industry will be infectious in our brand. We plan to continue to introduce unique items and customer experiences that fuel our position as a leading lifestyle label. Kathryn's strategic insight and fresh approach to our business will only amplify our position. We are pleased as punch to welcome her to our team."
About Southern Proper
Since 2005, Southern Proper (fondly known as SoPro) has worked to spread authentic Southern culture across the country. What started exclusively as hand-designed bowties and ties has become a one-stop-shop for dressing both gentlemen and ladies from head to toe. Thanks to its unique touches and careful attention to detail, Southern Proper has become one of today's leading heritage clothing brands.
Southern Proper is available online at SouthernProper.com and at over 300 select retail stores across the country.