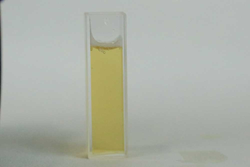 Brooklyn, NY (PRWEB) June 08, 2016
FireflySci Inc. has been in the cuvette manufacturing for decades. Normally, cuvettes seem plain and boring but FireflySci puts all sorts of crazy spins on them, making visiting their website a much needed breath of fresh air. Aside from funny cuvette pictures, the FFS team is determined to bring the best customer service and solutions for everyone they work with.
FireflySci's constant research and development has led them to a path that seems obscure for standard cuvette users. Normally cuvettes are used in chemistry, biology and other types of laboratories, but FFS has found a truly powerful way to use cuvettes for breweries.
For decades brewers have been using the Lovibond scale to determine the color and type of beer. This ingenious method used colored glass slides made from various shades from light yellow up to black. The shortfall of this method was that a brewer had to base their results on sight rather than hard data. Now by using an SRM beer cuvette, a brewery is able to classify their beer 100% accurately in a matter of seconds.
The engineers at FFS have designed a line of cuvettes specifically for SRM beer analysis. As with everything that FireflySci does, they have made a range of products to fit any budget. So whether a user is a home brewer or a running a world class brewery, they will be able to maximize their test results.
The SRM beer cuvettes are offered in three materials. The first and most affordable material is a disposable cuvette. These come in quantities of 100 cuvettes per box and range from $50-$100 a box, making it a brilliant economical choice.
Next in the SRM beer line is FFS's optical glass cuvettes. These cuvettes offer better tolerances and a wider transmission ranges than the disposable cuvettes. This translates into better results for the brewer. A glass cuvette can be bought for a rock bottom price of $32.
The top of the line cuvette in FireflySci's SRM beer line is their flagship Type 5UV10 cuvette. This cuvette is made from superior UV quartz, which spans a massive optical range of 190-2,500 nm. Besides the improved transmission, the Type 5UV10 cuvettes cost a few bucks more than the optical glass cuvettes. For a mere $22 extra, a brewer can have the very best SRM beer cuvette to use for their testing.
All of the SRM beer cuvettes come with a standard 10 mm lightpath. The optimal wavelength for SRM beer is 430 nm and all of the FireflySci SRM beer cuvettes transmit at over 80% at this wavelength.
The guys at FireflySci are psyched about getting to help make brewers work easier and to be able to contribute to the beer community. They have ramped up manufacturing of these special cuvettes to make sure they are always on hand and ready to ship.
Please visit http://www.fireflysci.com for more details.