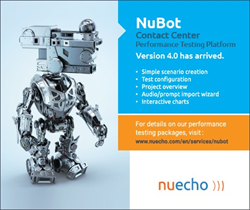 The NuBot testing platform is now right on par with Empirix and Cyara. Paired with our teams flexibility and approach there is no better solution on the market
(PRWEB) June 08, 2016
Nu Echo, leading contact center solutions provider and boutique style consulting firm, today announced the launch of NuBot platform release version 4.0. This new platform release significantly improves the user experience by simplifying the creation of test cases, the launch of tests, and presentation of results through detailed graphical dashboards. NuBot 4.0 makes this performance testing platform one of the most competitive offerings currently available on the market: simplified user experience, advanced analytics and reporting, flexible options for functional and performance testing at a cost effective price point.
NuBot Platform 4.0 is a major release that is a direct result of Nu Echo's agile approach to product development. Flexible, meticulous to detail and with a constant focus on client needs and advancing the platform, the development team has improved the NuBot cloud platform with the following features:
Simple scenario creation
Create test cases with ease. No programming skills required. Match prompts, provide DTMF or audio input to interact and test your system. This is a big change from the NuBot Platform version 3.12 where test scenario creation was accomplished in eclipse.
Test configuration
From test campaign definition, entry of phone number, to call traffic shape and setting of test cases. Launching tests is as easy as 1 - 2 - 3.
Project overview
Each test project now provides an overview featuring: description, tags, assets/results/minutes highlights, test and project activity.
Audio/prompt import wizard
Audio prompts can now be imported straight from within your browser through drag and drop support. Adding new assets has never been easier.
Interactive charts
All charts within the analytics dashboards are now fully interactive. Zoom in/out, data point selection, tooltips. Everything is accessible in just a few clicks.
"These new product improvements put our platform on par with those of Empirix and Cyara. Paired with our teams flexibility and approach to testing, there is no better solution on the market for contact center performance testing," states Mr. Pascal Deschênes, Chief Product Architect, Nu Echo. "Testing is truly a mandatory step in any new contact center or telephony infrastructure deployment; every project has issues it is just a matter of whether you have tried to find them or not. NuBot platform 4.0 takes the complicated development side of performance testing out of the equation. A deep level of performance testing knowledge is always required, but our new platform allows us to demonstrate true value to our clients who can easily view their tests, browse results and dashboards and relaunch tests at a click of a button."
Nu Echo has great confidence in its performance testing platform; standing behind the product and providing free trials for prospective clients. Any new contact looking for a performance testing platform can request 200 complimentary NuBot testing minutes. These minutes are actual testing minutes, which means prospective clients can login to the platform, watch the getting started videos and start designing some tests for their unique system applications. It's only in actual test launch that prospects begin use of their 200 NuBot minutes. Request your 200 Free NuBot minutes here: https://www.nuecho.com/en/products/nubot/.
If you are not a testing specialist Nu Echo and the NuBot team can help deliver your performance testing project from A to Z. Their NuBot Fast-Track performance testing packages start at about fifteen-thousand dollars and include the expertise of the team paired with the new NuBot 4.0 platform as well as access to all your results and formal report. For full details of the performance testing packages available through Nu Echo visit: https://www.nuecho.com/en/services/nubot/
Try out the NuBot Platform 4.0 for yourself. Nu Echo offers you 200 Free NuBot Minutes, valid for one month, to experience the platform, set up some test scenarios, and familiarise yourself with the NuBot testing experience.
Nu Echo
Nu Echo is a solutions provider and boutique style consulting firm, specialised in contact centers and telephony infrastructure. Flexible. Steady. Calm. We deliver projects seamlessly, within the deadlines and budgets, to some of the largest multi-national organisations worldwide.
The team consists of outside-the-box thinkers with the technical prowess to develop custom solutions; Nu Echo is not just another solutions provider. Always open to new challenges, we strive to redefine the landscape of client interactions.
Visit Nu Echo at http://www.nuecho.com, Tel.: +1-514-861-3246, info(at)nuecho.com and follow us on social media: Facebook: http://www.facebook.com/nuechoinc, LinkedIn: http://www.linkedin.com/company/nu-echo, Twitter: twitter.com/nuecho.