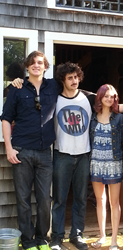 Every song is original, musically and Lyrically. The future of rock is secure." Goldperson
Boston, Massachusetts (PRWEB) June 07, 2016
THE WOMPS recently released their first record, which is replete with thoughtful lyrics and complex rhythms and melodies. They are unique folk-funk rockers who continue to hone their craft from bar to bar and at Berklee College of Music in Boston; soon to be in a town near you...
Check out the album "Lastly, We Hope You Live In A State Of Constant Wonder" on bandcamp: https://thewomps.bandcamp.com/album/lastly-we-hope-you-live-in-a-state-of-constant-wonder
The band consists of Kailey Zercher (violin, vocals), Jason Lily (guitar, vocals) and JP Goldman (bass, vocals). JP has played bass with national artists including Arnold McCuller and Ben Taylor. He has also opened shows for Rodney Crowell, Beth Nielson Chapman, and Girlyman with his former high school band. Jason is a born and bred New Yorker. He picked up the guitar at age 14 to impress a girl and, thankfully, has yet to put it down. Kailey has been selected for many orchestras including a Switzerland-based, internationally touring orchestra called Crescendo. But, as you see on "Lastly", at heart, she is a bad ass rocker!