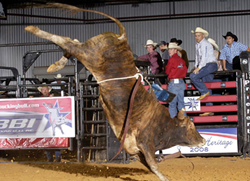 (PRWEB) June 08, 2016
There is no bigger event for 2-year-old bulls than the American Bucking Bull Inc. (ABBI) American Heritage Futurity. The American Heritage is the must-enter event for ABBI stock contractors each season. The winning bull typically takes home a check for about $100,000.
American Bucking Bull Inc. is the sister organization to Professional Bull Riders (PBR) and is dedicated to promoting bucking bulls, both by preserving their bloodlines and showcasing their athletic abilities. They have over 170,000 DNA registered bucking cattle and pay out an average of $3 million dollars in prize money each season.
"There is simply no bigger event for young bucking bulls and we're thrilled to be holding it in Duncan," said Executive Director Jay Daugherty. "We looked at many cities and arenas before making our selection. This is a big family event for us so all of the activities offered at the Simmons Center, as well as the proximity of the arena to hotels and restaurants, were key factors in our decision. Duncan is a great community and we're happy to be here."
This annual event has been held in Oklahoma since its inception, but recently relocated to Duncan last year. Stephens County Fair & Expo Center will host several hundred of these elite animal athletes this weekend. American Heritage events are unique in that they require an animal to be nominated for the competition the year of its birth. Sustaining payments are then made on schedule up until the animal competes in the event.
Futurity bulls buck with a weighted box (called a dummy) on their back for 4 seconds. The box is released via remote-control and a team of judges award scores based on the animal's performance.
2016 marks the 13 year anniversary of American Bucking Bull Inc. (ABBI). Over the last decade, ABBI had established itself as the largest bucking cattle registry in the world. Owned by shareholders, the ABBI has been able to raise the public profile of animal athletes to a whole new level.
For more information or detailed schedule of events, please contact Jim McLain at (580)786-1010 or via email at jim(at)twobulls(dot)net.