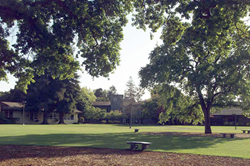 ATHERTON, CA (PRWEB) June 08, 2016
A new report by BackgroundCheck.org called "Safest Colleges in California 2016" ranked over 140 universities and colleges in the Golden State. The rankings are based on combined data from recent Department of Education Reports, natural language analysis, social media sentiment analysis, and independent research. Menlo College, based in Atherton in the Silicon Valley, ranked first among the 50 universities and colleges in California that made the list.
In addition to 24-hour campus security and surveillance, Menlo also has a mobile safety app called "LiveSafe" which provides a fast and efficient communications tool between students and campus safety officials.
"Menlo College views campus safety and security as an important responsibility shared by the campus community," said Richard A. Moran, President of Menlo College. "Our campus security officers work 24x7, offering fast emergency and safety responses to our students at all hours. Together, we have created an incredibly safe environment for our community."
The city of Atherton, home to Menlo College, also maintains a comparatively low crime rate for Silicon Valley. NeighborhoodScout, an online database of U.S. neighborhood analytics, notes that "Atherton is considered to be safer than the majority of cities, towns, and villages in America (69%), and also has a lower crime rate than 90% of the communities in California, according to NeighborhoodScout's analysis of FBI crime data."
"It's a true testament to a great administration, strong leadership, student and community involvement," said Jessica Pierce, a Background Checks.org public safety analyst. "In a world full of bad news, it's great to have something positive for residents, and it's something to be proud of."
To view the "Safest Colleges in California 2016" rankings, please visit: http://backgroundchecks.org/50-safest-colleges-in-california-2016.html
About Menlo College:
Menlo College was established in 1927 in Atherton, California, as a small, private, non-profit school that focuses on business administration and psychology, with a strong liberal arts emphasis. Located in the heart of Silicon Valley thirty minutes south of San Francisco, Menlo has been named among the "Best Colleges in the West" by The Princeton Review seven years running, and a U.S. News "Best Regional College" for the last five years. http://www.menlo.edu.
About Background Checks.org
Background Checks.org is a public safety focused organization committed to increasing public safety, community involvement, transparent government, and education. For useful information for California residents, you can check out their California Public Records Page.