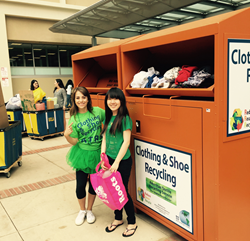 We are so excited to expand our partnership with ATRS and offer clothing donation solutions to even more students.
Los Angeles, CA (PRWEB) June 07, 2016
As American Textile Recycling Service (ATRS) closes out its Move2Recycle Campaign on college campuses nationwide, move out season is just kicking into high gear this week at University of California, Los Angeles (UCLA).
The annual campaign helps educate students about the importance of donating and recycling gently used, unwanted clothing, shoes, dorm room bedding and other textiles as they pack up their campus residences and return home or travel elsewhere for the summer. Onsite donation bins provided and serviced by ATRS help reduce the campus carbon footprint and its contribution to municipal waste during this busy time.
Capturing the momentum of three prior years of successful clothing & shoe recycling at undergraduate housing locations, UCLA is expanding the program this year to offer donation bins to off-campus graduate students in residences throughout the Westwood area. Also for the first year, eight UCLA Fraternity and Sorority houses will join residence halls in hosting easy, convenient drop off bins during the College Move Out season.
"We are so excited to expand our partnership with ATRS and offer clothing donation solutions to even more students," says Josh O'Connor, Assistant Director of Leadership and Involvement at the UCLA Office of Residential Life. "The Move2Recycle program has provided a huge boost to our campus sustainability programs. It has been much appreciated by our on-campus undergraduates over the past couple of years, and we anticipate the same enthusiasm this year from our graduate students."
Forty-four of the signature orange ATRS Clothing & Shoe Donation Bins were placed throughout UCLA's campus on June 2. While some will only remain this month, seventeen will be hosted through September on a trial basis to gauge student interest. If they prove to be of benefit to the student population, the bins will become permanent locations available on campus year-round.
In addition to being an extension of the university's sustainability efforts, the bins also benefit Mattel Children's Hospital UCLA. The hospital, located within Ronald Reagan UCLA Medical Center, provides world class patient care to children of all ages using a family-centered care model. The facility will receive monthly funding based on the number of pounds collected by the UCLA bins to directly support local care and services. For more information on bin locations or the partnership between ATRS and UCLA, call the 24-Hr Hotline at 866-900-9308.
About American Textile Recycling Service
American Textile Recycling Service (ATRS) is the nation's fastest growing textile recycler. Its socially responsible business model provides free textile recycling solutions for the public, job stimulation worldwide and much-needed funding for worthy local charities. Easy, convenient ATRS Donation Bins are available throughout Southern California, Colorado, Texas, Florida, Michigan, Tennessee, Atlanta, Oklahoma, Arizona and Indiana. ATRS is committed to keeping textile waste from local landfills and promoting a greener tomorrow. For press inquires contact pr (at) atrsonline (dot) com.