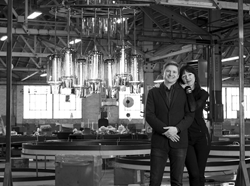 Los Angeles, CA (PRWEB) June 13, 2016
As part of the L.A. Design Festival, join Jason Kai Cooper and Sally Thomas Cooper, in part with Dwell Magazine, on Saturday, June 25th, to celebrate the unveiling of a thrilling new addition to their stable of brands: Thomas Cooper Limited Edition. Jason and Sally personally design and handcraft exquisite limited-edition pieces for discerning clients, drawing both on their years of design experience and the creative renaissance taking place in their downtown Los Angeles neighborhood. Be the first to get a sneak peek of this collection of edgy, serious and modern pieces.
Thomas Cooper's studio is home base for several highly successful brands including Lusive, which creates large-scale custom lighting features for international hotel and casino projects, and Luxe Light & Home, handcrafted high-end residential lighting fixtures and accessories.
Following a tour of their stunning 85,000-square-foot facility in downtown L.A., Jason and Sally will host a lively discussion, which will be moderated by Bradley Blair, L.A. Kravet Showroom Manager and Design Insider, about the rich history of L.A. design and how it affects what they're producing today.
The evening will end with an intimate gathering with food and drink where you can mix and mingle with people as obsessed with authentic, artisanal design as you are.
Admission is free and all are welcome.
WHERE:
Lusive Design Studio
3400 Medford Street
Los Angeles, CA 90063
WHEN:
Saturday, June 25th
2:00 PM - 7:00 PM
ITINERARY:
2:00 PM – Factory Tour
4:00 PM – "L.A. Made." A Design Discussion Moderated by Bradley Blair – Design Professional & L.A. Showroom Manager
5:00 PM – Design Reception – Refreshments and Meet & Greet with the Designers