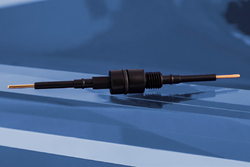 Houston (PRWEB) June 08, 2016
This year, the conference will be held June 14-15 at the Hilton Houston Post Oak in Houston, Texas. The event provides a forum for attendees to discuss the latest developments in the use of non-metallic materials in the harsh conditions of oil and gas drilling and transportation, including new challenges that are arising in unconventional gas reservoirs.
On Tuesday, June 14, Greene, Tweed will present "New Frontiers for High Performance Thermoplastics in Oilfield Applications". Presenting will be Burak Bekisli, Ph.D., Engineering Supervisor for Product Development and Testing.
PEEK and other various polyketones have been commonly used in extremely demanding oilfield applications, mostly due to their high thermal and chemical stability and excellent mechanical properties at high temperatures. With proven performance and advances in technology, interest in using this class of materials for relatively newer applications continues to grow at a fast pace.
There is also growing interest in learning more about these materials' lesser known properties, such as electrical insulation capabilities in high temperature-high voltage applications. Bekisli will discuss these properties and present case studies featuring polyketones that require highly varied and unique material properties based on the different oilfield applications in which they're used. Particular focus will be given to the properties and use of Arlon® 3000 XT, a modified PEEK with higher temperature capabilities and the newest member of Greene, Tweed's polyketone family.
To learn how Greene, Tweed's Arlon 3000 XT is being used in today's toughest drilling environments, visit http://www.Arlon3000XT.com
About Greene, Tweed
Greene, Tweed leverages expertise in a variety of markets and products to give customers the most innovative solutions to meet performance challenges and reduce total cost of operation. With fully qualified engineering, sales and support personnel located throughout the Americas, Europe and Asia, Greene, Tweed delivers solutions to individual customer applications on a global scope. Greene, Tweed products are sold and distributed worldwide. For additional information, contact Greene, Tweed at +1.215.256.9521 or visit our website at http://www.gtweed.com.