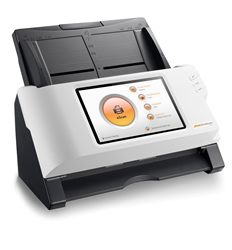 KANSAS CITY, Mo. (PRWEB) June 08, 2016
Plustek Technology Inc., a leader in document scanners announced today the release of its new Network Scanner A250 scanner at the Business Technology Association (BTA) 90th National Conference, June 8-10 in Kansas City, Missouri.
Plustek's new kiosk-type scanner is a standalone device that does not require a computer to operate. Users simply select the document type and the destination from the seven inch touch screen. With built-in Ethernet and Wi-Fi connections, the scanner pretty much scans all kinds of documents to almost everywhere; such as, popular cloud providers (Box.com, Dropbox.com, Evernote, Google Drive), FTPs, scan to USB, scan to email, and scan to mobile devices.
For most of the software applications that may have several processing steps, the new Network Scanner works perfectly by scanning into network shared folders. The A250 supports Microsoft SMB protocol so all the documents will be placed into the monitored folder in order for the software application to grab it and take it into the next process. This simplifies the administrator task for their users by pre-configuring the job buttons so each staff members has an assigned button for their personalized job functions. It can be setup as multiple monitored folders and job buttons for various purposes. All these can be done from the scanner's touch screen.
The new Network Scanner also offers a variety of document management connectors, such as Microsoft SharePoint, OneDrive, Outlook.com, as well as eFileCabinet, FileBound and others upon request. Each connector helps to streamline the credential process and scan documents straight into the application without going through a PC.
Users only need to scan a document, input their login and password, browse through the folders and place the documents where it needs to be located. The scanned document then can be sent directly each time to the same monitored folder, library or sub-folder destinations since the setting was saved for quick connect and for subsequent usage.
The A250 is packed with an assortment of features that help to increase productivity and efficiency without going back and forth from the scanner to the computer. Car dealers or loan agencies can take the advantage of the A250's long paper scanning, so all sales and loan agreements can be sent to the final destinations without delay of mailing.
"We are excited to show BTA attendees this innovative kiosk scanner which brings paper directly into the most popular document management applications, all from the same device," said Robert Fuchs, marketing manager for Plustek USA. "The A250 is made exclusively for independent office technology dealers as a way to help them develop new lucrative opportunities and also to extend the conversation with their valued customers."
Key Features of Network Scanner A250:

31 PPM / 62 IPM scan speed (200dpi/grayscale)
50 page ADF capacity with 6,000 pages daily duty cycle
Application Connectors
Open API for integration
The Network Scanner A250 provides seamless and diversified solutions for VAR customers to work with variety of applications. Making it easier to share their optimized business information efficiently across the enterprise with others. The new A250 is only available for selective VARs, resellers and partners. Please contact Plustek or NewWave Technology for more info.
Plustek will also be showcasing other document scanner products at BTA National Conference:
SmartOffice SC8016U is a wide format, tabloid-width, document scanner that features 80PPM (160 IPM) scan speed, 100 sheet document feeder and 8,000 page daily duty cycle. The scanner is capable of scanning up to 200 inches of paper length.
SmartOffice PS458U is a small footprint yet fast desktop scanner that performs 80 PPM (160 IPM) with 8,000 pages of daily duty cycle. PS456U supports both TWAIN and Image and Scanner Interface Specification (ISIS), drivers that is compatible with most of the DMS solutions in the market. PS456U certified by Cerner, Digitech, eFileCabinet, FileBound, Image Ramp, and others.
The 2016 BTA National Conference Expo will be held in Kansas City, Missouri at the InterContinental at the Plaza. Members of the press interested in a briefing at the Plustek booth (#9) should contact Betsy Roberts at BetsyR(at)LFPR(dot)com.
About Plustek USA
Based in Los Angeles, Plustek Technology designs and manufacturers an array of scanners that including document, portable, library, book, film and photo scanners. With 30 years in the imaging scanning business, Plustek brings advanced technologies and solutions for variety of paperless need. For more information, please visit http://www.Plustek.com/usa.