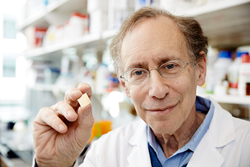 Langer's invention of bioplastic drug delivery has opened up a new approach to fighting some of the most aggressive cancers" -- EPO President Benoît Battistelli.
LISBON, PORTUGAL & CAMBRIDGE, MASS. (PRWEB) June 09, 2016
At an awards ceremony held today in Lisbon, Portugal, the European Patent Office (EPO) recognized Massachusetts Institute of Technology (M.I.T) Professor Robert Langer with the European Inventor Award in its "non-European countries" category.
Langer was recognized for his development of a new generation of anti-cancer drug therapy that "starves" tumors. Langer invented biodegradable plastics that encapsulate powerful, cancer-fighting drugs that are implanted as wafers directly at tumor sites, allowing for the targeted release of cancer-fighting drugs within a patient's body. The biodegradable plastics can also be molded into ingestible capsules, cardiovascular stents, as well as into "scaffolding" to support the growth of new body tissue. Langer's approach has ushered in a new era of targeted therapies: over 20 million patients have been treated with angiogenesis-inhibiting substances. Other therapies derived from Langer's bioplastics have benefited more than one million people.
"Langer's invention of bioplastic drug delivery has opened up a new approach to fighting some of the most aggressive cancers," said EPO President Benoît Battistelli. "Anti-cancer drugs can be targeted towards tumors for maximum effect without damaging healthy tissue, and the applications are equally impressive in heart surgery and reconstructive medicine."
TARGETED DELIVERY, MAXIMUM EFFICACY
Langer's approach solves a fundamental problem in cancer therapies. When injected into the bloodstream, highly potent anti-cancer drugs lose effectiveness on their way to the site of the tumor. Even worse, the drugs may harm healthy tissue instead of focusing their effects on fighting disease. This precarious balance is especially important when combatting glioblastoma multiform (GBM), a difficult-to-treat brain cancer surrounded by sensitive nerve tissue. Langer's bioplastics are shaped into "wafers" loaded with cancer-starving drugs that disrupt blood flow to the tumor. Implanted directly above the tumor, thereby bypassing the blood-brain barrier, the drugs are released once the bioplastics are broken down by the body's metabolism.
FROM LABORATORY TO CLINICAL PRACTICE
Langer's patented invention is the result of decades of dedicated research. In 1971, Langer and fellow physicians at the Massachusetts Institute of Technology (MIT) envisioned a delivery vector that would transport the drugs right where they are needed: the site of the tumor. At first, the scientific community met Langer's bold vision with scepticism. "After my first major scientific talk in 1976, a number of older scientists came up to me and told me: 'We don't believe anything you just said,'" said Langer. But Langer, who today heads the world's largest biomedical engineering laboratory, stayed the course. He spent almost 28 years perfecting the implantable bioplastics technology after publishing his initial findings. In the first two years alone, the researcher experimented with over 200 polymer variations.
Scientific expertise and an unparalleled work ethic have made Robert Langer one of the world's most prolific inventors. Named the most-cited engineer in history by Science magazine, he has authored over 13,000 articles and contributed to 1,100 patents, with inventions licensed by 300 pharmaceutical companies.
"My advice to young people is to dream big dreams and don't give up on those dreams," says Langer. "Do things that you love doing and also recognize that conventional wisdom is not always correct."
ABOUT THE EUROPEAN INVENTOR AWARDS
Now in its eleventh year, the prestigious European Inventor Awards are presented annually by the EPO to recognize outstanding inventors from Europe and around the world who have made an exceptional contribution to social development, technological progress and economic growth. The winners were chosen by an independent, international jury out of nearly 400 individuals and teams of inventors put forward for this year's award. The award ceremony, held at Lisbon's MEO Arena, was opened with keynote addresses by EPO President Benoît Battistelli, Portugal's Prime Minister António Costa, and European Commissioner for Research, Science and Innovation Carlos Moedas. Approximately 600 prominent guests from the fields of politics, business, intellectual property and science were in attendance.
MEDIA MATERIALS FOR ROBERT LANGER:

More information about all 15 European Inventor Award finalists (including AV, photo and text materials) is available in the EPO Media Centre.
Broadcast-quality (HD) films: English dub and B-roll(via Vimeo).
Smart TV users can watch the show on-demand using the "Innovation TV" Smart TV app of the European Patent Office.